Morbid? Yes. Necessary? Absolutely.
Before Harry S. Truman authorized the atomic bombing of Hiroshima and Nagasaki, he was FDR's veep. Lyndon Johnson escalated the conflict in Vietnam, with disastrous consequences, following the assassination of JFK. Voters in 2008 faced the choice of a youthful Barack Obama... or an aging John McCain, paired with foreign policy pro Sarah Palin, staring down Putin from her front porch.
This stuff matters, especially because being the president of the United States of America is a stressful, dangerous job. "When presidents begin their term they may look relatively young, but four or even eight years is a long time," says Dr. Ronald Primas, a board-certified internist, preventive medicine specialist, and fellow in the American College of Physicians and the American College of Preventive Medicine. "Stressors, like managing a POTUS position, can negatively affect a person's health. Presidency seems to make people age faster."
Gray-haired Obama knows what we're talking about. That's why, with Dr. Primas' expert input, we ranked all of the presidential candidates... according to how likely they are to die in office (though hopefully they won't!).
19. Donald Trump
Age: 69
Wealth = health! Trump is an active guy, playing golf regularly, presumably on Trump courses. He also completely avoids alcohol, smoking, and drugs, which is mildly surprising. We have to wonder, though: will all those spray tans make him sick?
Maybe not. "Even though he's [approaching] 70, being wealthier does buy you some health, and Trump has advantages that way," Primas explains. While there's a small chance that someone might try to poison Trump, it's not smart to bet on The Donald's death. He's indestructible. Like a cockroach. 
Risk assessment: You can't kill what won't die.
 
18. Jim Gilmore
Age: 66
Who? 
Risk assessment: Irrelevant
17. Martin O'Malley
Age: 52    
Former Maryland Gov. Martin O'Malley works out regularly and tries to eat healthy foods, picking vegetables over fast food when it comes to coping with the stresses of the campaign trail. If we're judging a book by its cover, this shirtless pic of O'Malley shows off a strong, toned bod -- in fact, it would probably be his Tinder photo (sorry ladies, he's married). Also in his favor: Carcetti (spoiler alert!) does not die in The Wire.
At 52, O'Malley is one of the youngest candidates in the race, and his mom's still kicking at age 86. "The healthiest candidate title was between Jim Webb (who may be getting back in the race?!) and Martin O'Malley," Primas says. "Both are very fit, but based on age and statistics, O'Malley wins out."
Risk assessment: Only if he gets crushed throwing up mad weight at the gym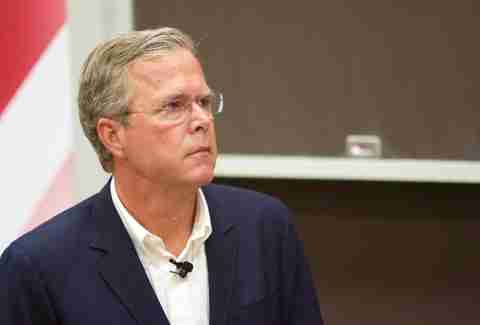 16. Jeb Bush
Age: 62    
The Bushes are a persistent bunch, with both of his parents alive in their 90s, and his brother W. surviving attacks from pretzels and shoes. Jeb Bush isn't exactly a health nut, but he's recently gotten his weight in check, telling Vanity Fair that he lost 40lb over a period of six months as a result of exercise and the Paleo diet -- an impressively trendy pursuit for a man named "Jeb." 
Risk assessment: This Floridian has ample golden years ahead.
15. Ben Carson
Age: 64  
Ben Carson is a doctor, and also the only openly vegetarian candidate in the 2016 pool. While that might be annoying at barbecues and potlucks, it means he won't ever get cancer from bacon. On the other hand, he's already had prostate cancer. So... that's a wash?
"Even though he's 64, this low ranking is based on his lifestyle as a vegetarian as well as his status as a physician," Primas said. "Physicians are typically more educated and health conscious than the general population." To the point that they become supplement shills, apparently.
Risk assessment: Will offer you a sweet gig as your own boss, selling products you can stand behind. Where's the risk in that?
 
14. Marco Rubio
Age: 44
Rubio went to college on a football scholarship, playing for a year before an injury ended his career. Today, he continues to exercise regularly in the mornings (sometimes with gym partner and fellow senator Richard J. Durbin... bipartisanship!). He's also one of the youngest candidate in the field, a huge plus.
Risk assessment: As long as he's hydrated, he's safe.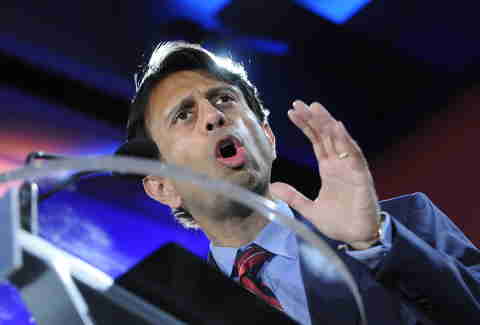 13. Bobby Jindal
Age: 44
Jindal is supposedly a "gym rat," but his fitness concerns apparently don't bleed into his diet, as he loves nachos and doesn't place restrictions on what he eats. We can dig that. We can also dig his new nickname, Bobby "Nachos" Jindal. Careful Bobby -- you're young-ish and appear fit, but being the supreme leader and nachos supreme do not mix.
Risk assessment: As long as he doesn't combine his nachos and exercise, choking hazards should be minimal.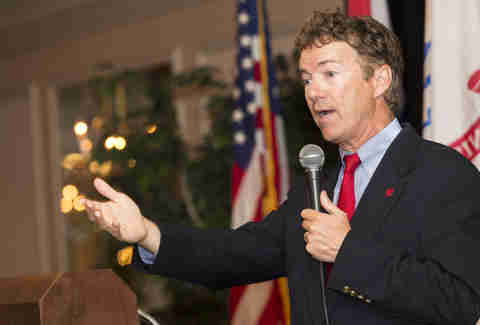 12. Rand Paul
Age: 52
The other doctor in the race, Rand Paul has definitely worked out at least once -- the proof is in the workout selfie. However, we also know that once he ate a candy bar during a filibuster. Since both of those one-time events cancel each other out, we're giving him the benefit of the doubt (after all, it was one candy bar) by slotting him here. Also, his pops still seems pretty spry. 
Risk assessment: As a doctor, he can always pull his health up by the bootstraps if things go south.
11. Carly Fiorina
Age: 61
Carly Fiorina is a breast cancer survivor, which is almost as badass as the response she gave to Trump after he insulted her face earlier this year. She underwent a double mastectomy in 2009, and has since made a full recovery. Now she spends time on the elliptical machine most mornings, which should give her a way to spend her time after dropping out of the 2016 race.
Risk assessment: Starting to worry, if, you know, she were going to be president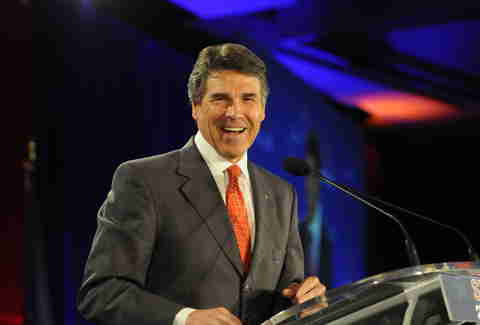 10. Rick Perry
Age: 65
Once a devout runner and marathoner, former Texas Gov. Rick Perry (who suspended his campaign, but had to be included, because look at that hair!) now practices a workout routine that focuses on core strength after back surgery left him unable to run. While he no longer pounds the pavement, Perry does pull-ups, push-ups, planks, crunches, and rides a stationary bike to maintain his fitness.
That same back surgery required painkillers, which Perry seemed to enjoy immensely, to the point that reports surfaced that he was taking them during the debates in the 2012 campaign.
His exercise habits counterbalance his age, Primas says, scoring him a spot solidly in the middle. 
Risk assessment: "The coolest thing happens. I roll in here, and I get to meet a real-life angel," is a thing Rick Perry really said that he may one day repeat.
 
9. John Kasich
Age: 63
Kasich is known for having a short fuse and unpredictable tantrums, which isn't great for your health. However, his wife is super fit (she's got guns, and a constitutional right to them!), and the couple reportedly works out together often. While it seems like Kasich has a solid fitness regimen, his age and short temper are warning flags for health problems ahead.
Risk assessment: A ball of rage, ready to burst into flames. Somewhat moderate, if you will.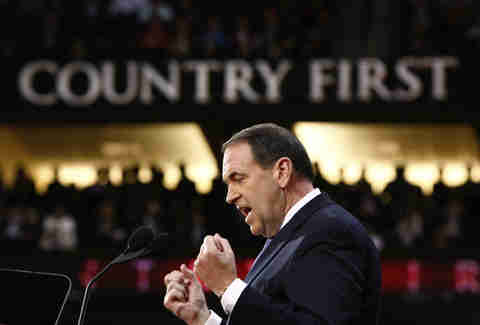 8. Mike Huckabee
Age: 60    
Huckabee was diagnosed with type 2 diabetes in 2003, which turned him into a champion of health, exercise, and proper nutrition after losing 110lb 12 years ago. He even wrote a book about it (good) and sold shady-sounding diet pills for diabetes (bad). Proving his new lifestyle was, like, legit, Huckabee ran a 4.5-hour marathon in 2005, and has eliminated sugar, fried foods, and junk foods from his diet.
Despite his now-healthy lifestyle, his past experience with diabetes -- and the likelihood that an intense workload may boost his appetite for indulgences -- Huckabee's health is of some concern. "Based on his history, any time with diabetes could cause an accumulation of plaque in your arteries, causing potential problems down the road," Primas says. 
Risk assessment: Maybe he can get some of Carson's pills? Concern is climbing.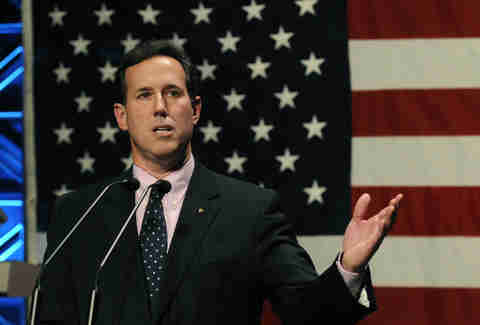 7. Rick Santorum
Age: 57
Rick Santorum is 57??? That's like 30 years older than we would have guessed! He reportedly does 50 push-ups per day, and hunts and bowls regularly (which actually could be a red flag), but has horrible eating habits (not our words -- Primas said it!). Despite having a health professional in the family (his wife is a nurse), his huge love for ice cream (he's been known to hold town meetings in ice cream parlors!) got him where he is on the list. Those bowling-alley snack bars probably aren't doing him any favors either. 
Risk assessment: A 57-year-old ice cream freak does not bode well (on many levels) for a term as president.
 
6. Ted Cruz
Age: 44
Ted Cruz once said that he'll eat "anything with cheese on it," and we all know that's basically like doing crack. He's also a video game addict, so there's not a lot of hope for a guy mainlining Muenster and playing Call of Duty all day (these are just guesses). On the other hand, he's only 44, so there's that?
Risk assessment: Approaching cause for serious concern, like Ted's poll numbers
5. Lindsey Graham
Age: 60    
Lindsey Graham is trying to stick to a low-carb diet, but he doesn't particularly exercise... so we hope that diet sticks! Graham's age and family history raise a few warning flags, since his father died of a heart attack at age 69. Primas said this is a serious reminder to monitor his health, especially with a high-stress POTUS job. And that low-carb diet can mean an increased reliance on animal proteins, which could increase the risk of cancer. Also he's a bachelor, and studies show married folk tend to live longer. 
Risk assessment: Poor Lindsey Graham. This is the best he'll finish on any list related to the 2016 presidential race.
4. Hillary Clinton
Age: 68    
Clinton avoids pizza, works out regularly (swimming, walking, and weight training), practices yoga, and sticks to a diet that's rich in protein, vegetables, and fruits. Add to that the fact that her father lived to be 82, while her mother made it to 92, and Hillary would appear to be in pretty good shape.
Some big caveats. Although her doctor determined Clinton was in excellent health and fit to serve the country, the former secretary of state is on medication to control thyroid problems, and takes an anti-coagulant to prevent blood clots in her legs and her brain. Pretty big deal, especially given her age. 
Risk assessment: Worth it to get Bill back in the White House. And, you know, there's the first female president thing, too.
 
3. George Pataki
Age: 70
If Pataki conjured up a miracle and got himself elected, he would be the oldest person ever to become president for the first time (same goes for Sanders). Older than Ronald Reagan in 1980, and Reagan was old! He also drinks Diet Coke with breakfast, which does not seem like the healthiest start?
Risk assessment: Leading Hillary, for once!
2. Chris Christie
Age: 53    
Have you seen Chris Christie? If the answer is somehow "no," he's right there. Though he's recently made steps to live a healthier lifestyle (he had a gastric band procedure in 2013, and dropped at least 85lb), the New Jersey governor still weighs in somewhere around 230lb. He's referred to himself as, "basically the healthiest fat guy you've ever seen in your life" and referenced his workouts in 2014, which, yeah, OK, seems like something an unhealthy fat guy would say.
He also doesn't seem to be a fan of others getting their sweat on. Christie recently "declared war" on indoor rock-climbing walls -- we assume he wants that university tuition money to go to the cafeteria? In 2013, he got a clean bill of health from Dr. Rachana Kulkarni, and was reportedly working out four times a week, though it doesn't look like he kept that regimen up. 
Risk assessment: Yuge
1. Bernie Sanders
Age: 74
At 74, Sanders ranks as the oldest of the 2016 candidates. His age makes him just two years younger than the average life expectancy for men in America, and if he wound up winning two terms he'd be 83 when leaving office. While Dr. Primas assures us that there are plenty of people above the age of 76 who are healthy, strong, and thriving, Sanders is still essentially, "living on borrowed time." Wow, doc!
Risk assessment: "Living on borrowed time" is definitely not what you want from a presidential candidate. But hey, age is just a number, and Bernie still has moves, so maybe he can defy the odds in more ways than one?
Sign up here for our daily Thrillist email, and get your fix of the best in food/drink/fun.
Erin Kelly is a writer, marathoner, and triathlete living in New York City. She honestly doesn't think Diet Coke is that bad and hopes all of the 2016 presidential candidates live long and fulfilling lives.