Here's the Fattest State in America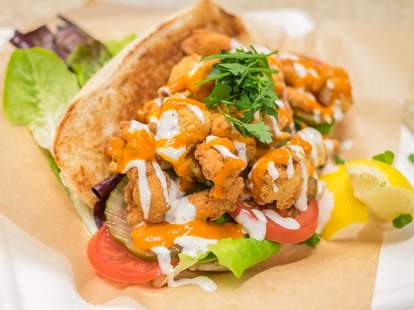 America, we've had some pretty cringeworthy moments this year. Ryan Lochte proved he's really bad at making stuff up, our teens are trading in weed for fruity vapes, and some guy fell into a pond trying to catch Pokémon. 
One thing we're starting to get our shit together with, luckily, is this obesity problem. Even though our dietary guidelines are a joke, and we can't even give fast food-loving people fitness trackers without things going haywire, our obesity rates are on the decline for the first time in a decade. Four states (Minnesota, Montana, New York and Ohio) have a lower adult obesity rate from the year before, according to the State of Obesity 2016 report.
But it's not all good news. All 50 states still have an adult obesity rate over 20%, with 25 states falling into the 30% or above range. In 1991, no state had more than a rate higher than 20%; we were too legit to quit, so to speak.
And Louisiana, which was ranked fourth the year before, has ousted Arkansas, West Virginia, and Mississippi to take the top spot of fattest state. With 36.2% of adults being obese, the numbers are pretty grim. Not pointing any fingers, but when New Orleans, which is the food capital of the country, falls within your state lines, it's hard to blame the Pelican State. I mean, have you ever had a beignet or po-boy?
Despite all the regional delicacies, hopefully Louisiana can join the ranks of Colorado one day, which has the least amount of obese people: 20.2%. Although hiking in beautiful mountainous cities is a little more pleasant than jogging near a muggy bayou.
Sign up here for our daily Thrillist email, and get your fix of the best in food/drink/fun.
Christina Stiehl is a Health and Fitness Staff Writer for Thrillist. She's from Illinois, the 18th fattest state in America. Follow her on Twitter: @ChristinaStiehl.