These YouTube Channels Will Give You a Killer Workout for Free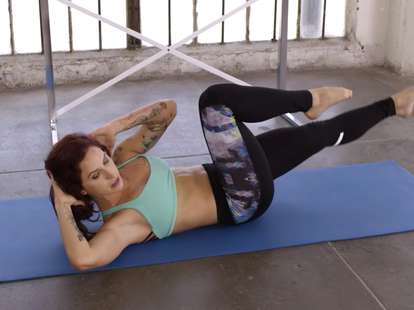 BeFit/YouTube
BeFit/YouTube
A gym membership can cost you as much as a weekend getaway, or the first down payment on the next Tesla; after a long day or week at work, you're more likely to want to hit up Netflix than the gym. But perhaps you can kill two birds with one stone -- getting in shape without dropping a dime or leaving the comfort of your living room.
To help everyone get a workout deserving of half their paycheck (without actually coughing up said paycheck), these are the best YouTube channels for bodyweight workouts.
For a plethora of quick and dirty (quick meaning anywhere between five and 20 minutes, and dirty meaning freakin' hard) workouts that you can do just about anywhere, follow Adam Rosante's YouTube channel. The fitness coach and author of No. 1 bestseller The 30-Second Body, Rosante offers both equipment-free workouts and those that incorporate a dumbbell or two. Rosante's charismatic and positive attitude will encourage you every step of the way -- and his abs will inspire you to finish out each set.
With workouts that have names like "The Coachella 5 Minute Hip and Butt Workout," it's clear that Amanda Russell's YouTube channel caters to a certain type of person. The kind that takes his/her shirt off at music festivals, for example. Leveraging her expertise as a former competitive athlete, Russell's typically quick workout videos are infused with muscle-building moves for full-body workouts, and complemented by a goofy demeanor.
This one-stop shop for fitness, health, and wellness is dedicated to delivering workouts from top trainers, including the likes of Jillian Michaels, Jane Fonda, Billy Blanks Jr., and others. Featuring everything from five-minute recovery tutorials to incremental six-week programs, BeFiT provides something for everyone, whether your goal is simply to avoid injury, or to actually get that coveted six-pack (well, as close as you can get to one).
When Cassey Ho created her first workout video on YouTube back in 2009, it was for just 40 of her students. But the views skyrocketed, pushing her to create more videos that would eventually shape the now-powerful Blogilates community. Ho offers a series of quick workouts targeted at specific body parts, most of which only require a yoga mat, so you don't need a lot of space for them.
For at-home workouts, explainer videos, and full-on body-blasting workouts, Bodybuilding.com's YouTube channel is the equivalent of having a personal trainer -- except you can pause them while you run to the fridge for a snack. Since it's called, you know, bodybuilding, there's a huge mix of exercises on the channel, including many that require weights or a gym, but once you hone in on bodyweight routines you enjoy, you'll have a treasure trove of no-BS routines.
Offering daily high-intensity interval-training exercises, the BodyRock channel isn't for the faint of fitness heart. This stuff is hard, in other words. With plenty of twists on traditional exercises -- and tutorials to keep you from getting lost -- you'll find a hub of exercise variations to keep you from hitting that dreaded workout plateau. Some exercises do require actual weights, but you can find bodyweight and buddy workouts that require no equipment, or use a filled water bottle as a dumbbell, if needed. As a bonus, you'll find healthy recipes throughout the channel, too.
FitnessBlender founders Daniel and Kelli are a husband-wife team whose videos are for everyone, everywhere -- even those who absolutely hate working out. The videos are simple and easy to understand, with training titles like, "Abs Workout For People Who Get Bored Easily," and "Brutal Butt And Thigh Workout," so it's clear the duo knows how to speak plain English and provide the kick-in-the-pants you need.
If you're someone who's easily overwhelmed by options, take a deep breath before perusing HASfit's YouTube channel, which has more than 1,000 free workout routines and fitness programs for you to choose from. With workouts as short as a 12-minute oblique workout, to longer programs like a 30-day ab challenge (it even provides a printable calendar to record your progress!), you won't find a lack of challenging options. All you have to do is find a good place to start.
Always been meaning to do a Pilates class, but just, um, had more convenient things to do? Check out Jessica Valant Pilates, a channel full of full-length, ad-free workouts to help you hone the art of lengthening and toning your body. Jessica Valant, a licensed physical therapist and certified Pilates instructor, uploads at least one new video every other Wednesday, which means you'll constantly have new content to look forward to. When she isn't kicking your butt with workouts, she's demonstrating tutorials and dishing out advice on how to keep your body pain-free -- which virtually everyone can use at some point in life.
You'll need to drop the big bucks for this Instagram celebrity's Bikini Body Guide, but you can score glimpses into her fitness regimen for free on her YouTube channel. The personal-trainer-turned-overnight-internet-star tailors her workouts specifically to women, but everyone can get inspired by this quickie rope-skipping workout and this intense abs workout. Sure, she makes it look easy, but it is so, so not.
Scott Herman's collection of weight workouts is exactly what people mean when they use the term "swole." He primarily focuses on workouts that require some equipment (as in "carrying heavy stuff"), but his channel also features valuable bodyweight exercises that harp on proper form, like this video explaining how to hold the perfect plank.
Sign up here for our daily Thrillist email, and get your fix of the best in food/drink/fun.
Erin Kelly is a writer, runner, and triathlete living in New York City who gets her six-packs from a refrigerator in Whole Foods. Follow her on Twitter at @erinkellysays.