15 Inspirational Fitness Instagram Accounts to Follow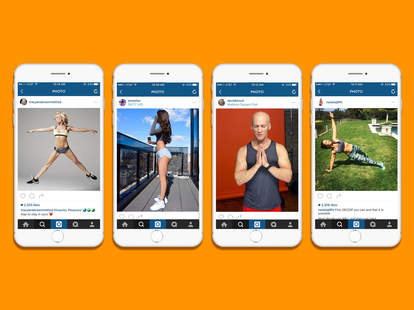 Instagram isn't just a place where you post photos of the buttermilk-rosemary pancakes you ordered at brunch. It's also become home to a growing crop of fitness stars who use Instagram to provide workout tips, diet advice, and a glimpse into what it takes to keep themselves in tip-top shape.
If you're looking to get fit, but want some free advice before shelling out for a gym membership, check out these accounts.

Who she is: They call her the next Jillian Michaels, and she's the one with the famous butt.
Sample post: A way to strengthen glutes and quads with a little coordination and a high step
Why it's useful: Jen Selter's got some good workout tips, but people like Johnny Manziel and Shaquille O'Neal are probably following her for… other reasons. You can decide how much fitness you want out of it.
Who he is: The fitness director of Men's Health.
Sample post: Dude can do some serious work with a medicine ball.
Why it's useful: He gives you a good mix of weight training, cardio, and cross training, and incorporates props.
Who she is: Formerly of @twobadbodies, Jennifer Forrester's new focus is fitness agnosticism.
Sample post: You'll get plenty of variety with posts like this equipment-free, total-body workout.
Why it's useful: She shakes up her workouts with a blend of yoga, cardio, and cross training, so you'll always find something fresh.

Who she is: A sports nutritionist with a penchant for multitasking
Sample post: This girl shows you how to clean the floor and burn fat at the same time
Why it's useful: The floor cleaning workout may seem ridiculous, but it's something you can actually do at home, where no one will care about your ridiculousness. Unless you post it on Instagram.
Who he is: Co-founder and president of the World Calisthenics Organization
Sample post:Jumping into the human flag is a bit, uh, aspirational, but still pretty cool.
Why it's useful: If you thought you needed to bench press hundreds of pounds to build muscle, this guy shows you otherwise with an array of bodyweight exercises.
Who she is: A personal trainer and self-described fitness addict
Sample post: Her "Core Pyramid" will destroy -- then rebuild -- your abs.
Why it's useful: The complete workouts she posts are easy to follow (if not to complete), and usually require no or minimal equipment.

Who he is: A trainer with a mind-body focus
Sample post: Check out his move for side and front laterals
Why it's useful: He's got to be doing something right if celebs like Heidi Klum and Kate Upton have gone to him, plus he focuses on the mental aspect of fitness more than most.
Who he is: A personal trainer with a no-nonsense approach
Sample post: See how he carves his core with a kettlebell and a bosu ball.
Why it's useful: This dude doesn't mess around with quotes or beach shots (though there are a few selfies in there). It's mostly just workout videos in one steady stream.
What it is: The people behind FitGirl app.
Sample post: Try working on your abs in the kitchen.
Why it's useful: Looking to get in shape in your local park? These folks share videos with fresh ideas for on-the-go workouts.
Who she is: Fitness guru to the stars, Tracy Anderson is (surprise!) on Instagram.
Sample post: Stay interested in your workouts with these offbeat moves.
Why it's useful: No one can match her crazy, never-thought-of sequences. Though she doesn't post many videos, there are some gems in her feed. And it won't cost you $900.
Who she is: A trainer focused on high-intensity interval training
Sample post: This total-body workout looks impossible when played at high speed.
Why it's useful: In addition to having an awesome real name, Stryker calls herself the "12-Minute Athlete." Who doesn't want to get fitter in 12 minutes?
What it is: Pretty much what it sounds like, but with more emphasis on the "kettlebell" than the "kickboxing"
Sample post: Incorporate a kettlebell into yoga. Why not?
Why it's useful: They say a kettlebell is the only at-home workout tool you'll need -- these folks will keep you busy using yours with plenty of new moves.
Who she is: An Under Armour ambassador who practices yoga set to hip-hop
Sample post: She goes beyond yoga with some cool gliding exercises.
Why it's useful: If you're looking for the benefits of yoga without all the quiet and stillness, Harrison's account is for you. She proves that yoga goes beyond sitars and incense.
Who she is: A nutritionist and trainer who's known as "The Hollywood Trainer."
Sample post: Your legs will be burning after a few loops of this workout.
Why it's useful: She's got the perfect balance of videos, motivation, and food, plus some shots of her with celebs (if you're into that kind of thing).
Who she is: A feminist and trainer
Sample post: This muscle imbalance exercise may not look like much, but it's really, really hard.
Why it's useful: Kneeland writes a substantial amount to go along with her videos and tips, so you get more than just a visual guide.
Sign up here for our daily Thrillist email, and get your fix of the best in food/drink/fun.
Kristen Fischer is a writer at the Jersey Shore who recently quit her gym to work out in her home studio. We'll see how that goes. Follow her at @kristenfischer.