30-Day Fitness Challenge, Day 16: Upper Body, Cardio + Core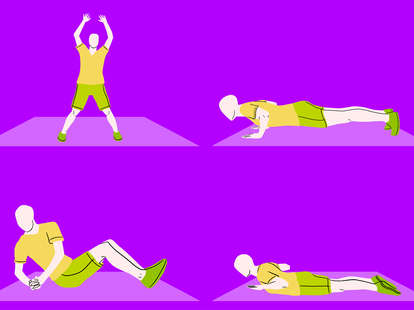 You're on Day 16 of the 30-Day Gym-Free Fitness Challenge. To return to the main challenge page, click here.
Like yesterday's lower-body AMRAP, this upper-body, cardio, and core workout is also based on how many total rounds of prescribed exercises you can complete in a set period of time. Today, though, you're doing a single AMRAP, repeating it three separate times.
Each AMRAP lasts eight minutes, with a two-minute break between each eight-minute cycle. The goal is to meet or exceed the total number of rounds you complete on the first cycle during each subsequent cycle, so pay attention and don't lose count!
AMRAP prescription
Set a timer to count down for eight minutes. When you start your timer, perform as many rounds as possible of the following circuit.