30-Day Fitness Challenge, Day 29: Total-Body Finisher
You're on Day 29 of the 30-Day Gym-Free Fitness Challenge. To return to the main challenge page, click here.
After a couple of low-key workouts, it's time for one last killer conditioning routine designed to torch your major muscle groups while raising your heart rate. Leave it all on the line and push yourself -- the entire routine takes less than 25 minutes.
Today's workout is five minutes of stair climbing, followed by four four-minute Tabatas. You'll get one minute of rest between each series. Find a stairwell, get your timer ready, and be prepared to work.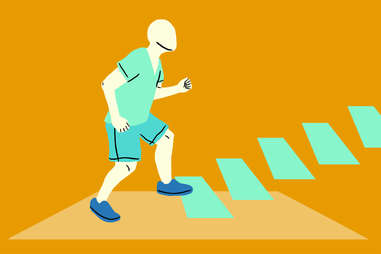 Series #1: Stair climbing
Set a timer for five minutes and find a set of stairs. When the time starts, climb up and down the stairs as fast as you can for the whole five minutes.
Rest one minute.
As with all Tabatas (including the ones to follow), you'll perform eight rounds of 20 seconds work and 10 seconds rest, for a total of four minutes. Use a Tabata timer to time the intervals for you.
Rest one minute.