Intense 20-Minute Workouts You Can Crank Out in Any Park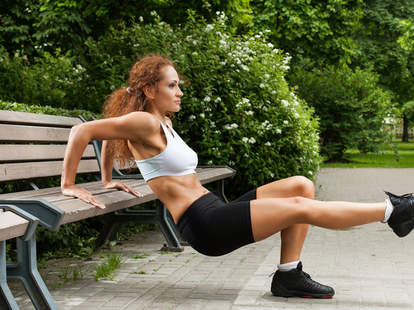 Yeko Photo Studio/Shutterstock
Whether you're a victim of ClassPass' recent sky-high price hike or you're tired of shelling out hundreds of bucks on a gym membership, you're in luck. Nearly every city and town in America boasts a public gym with a plush ground for planking, dedicated paths for cycling and jogging, and complimentary vitamin D supplements: a park.
To help you save a little cash (and build that summer tan), here are three trainer-approved workouts you can do in the park in 20 minutes or less.
Cone countdown
Sean Bykerk, owner of Breakthrough Bootcamp in Mississauga, Canada, has developed a solid set of principles for a good fat-burning workout. "[It must] work big muscles, work lots of muscles, include strength training, and increase intensity," he says. His 20-minute park workout does just that, and the only equipment you'll need is two cones (or any other visible markers).
Set up two cones 30-300ft apart -- the farther apart, the harder you'll sweat.
Perform 10 push-ups, 10 burpees, and 10 sit-ups at the first cone.
Sprint to the second cone.
Perform nine push-ups, nine burpees, and nine sit-ups.
Sprint back to the first cone, then perform eight of each exercise. Repeat until you get down to zero.
Need to modify? Bykerk suggests jogging or walking between cones (instead of sprinting). You can also substitute squats for burpees and crunches for sit-ups for a lower-impact version of this intense workout.
Obstacle course
You don't have to wait for a Tough Mudder to test your skills on an obstacle course. Josh York, founder of GYMGUYZ, a mobile fitness service that provides in-home personal training, has developed a park-based obstacle course workout that will tone every muscle in your body. Look for an area that has a few benches and a hill for maximum effectiveness -- this one is certainly not for the faint of heart, and you can mix any combination of these exercises to make it more palatable or specific to your fitness needs.
Park power-up
You'll never look at stairs, trees, monkey bars, and park benches the same way after trying Rachael Blumberg's park power-up workout. The founder of West Hollywood fitness studio PLATEFIT turns common park features into hardcore exercise equipment with a few basic moves; you'll need a resistance band for a couple of these, but those are cheap and quite portable.
15 lifted push-up jacks, with feet on a bench
Stair jumping jacks: do jumping jacks while going up a set of stairs. Jump open on one step and then close as you jump to the next step. Do as many as there are steps.
15 resistance-band fly exercises on a tree or convenient bar
20 hanging ab crunches -- you can modify here to regular old crunches if the idea of getting on a set of monkey bars and doing upside-down sit-ups isn't quite your speed. As always, be safe and only perform the exercises that are within your comfort zone.
Sign up here for our daily Thrillist email, and get your fix of the best in food/drink/fun.
Joni Sweet is a freelance writer in New York who wishes Central Park had a locker room. Follow her on Twitter and Instagram at @JoniSweet.