First, the bad news: you're definitely going to die, and your funeral and casket are probably going to be expensive and bad for the environment. But it doesn't have to be that way. The green movement and a host of entrepreneurs have joined forces to reinvent the death industry, which, though morbid, is a welcome development. Here are just a few options you now have for the inevitable moment you do pass on.
 
DIY your own eco-friendly casket
Katrina Brees is an artist and founder of Fantastic Casket. She'll make you a custom casket (she also designs Mardi Gras floats, if that gives you an idea) or teach you to make your own. "Anything can be a casket," says Brees, whose goal is to decrease the amount of debt people take on during the burial and funeral process. "People think you have to have a wooden box, but you could be rolled in a sheet and put in the ground if you wanted to."
Shine bright like a diamond... because you're a literal diamond
LifeGem will convert the carbon in your cremation ashes into a blue, yellow, red, green, or colorless diamond for prices ranging from $2,999 to $19,999, giving a whole new meaning to heirloom jewelry. If diamonds aren't your speed, you could become a pretty cool glass pendant necklace: My Sacred Ashes will blend ashes with glass in hand-blown pendants. Plus, there's a bulk discount if you order multiple pieces, meaning your cremains could become a fashion trend among mourners in the know.
 
Get pressed into a vinyl record
So you never wrote a top-40 hit in this lifetime. That's OK, because you can become one in the next. For 3,000 euros, And Vinyly will press your ashes into a 12-minute vinyl record. You can choose to play music, a vocal message ("I'm spinning... from BEYOOOND THE GRAVE!"), or nothing at all. Just be forewarned that if there's copyright infringement on your dead-body record, you're on your own. But hey, you're dead. So who cares?
 
Donate your remains to a "body farm"
The University of Tennessee's Forensic Anthropology Center includes a two-acre "body farm" -- a field of corpses where scientists, students, and professionals learn about decomposition. The paperwork to donate your body is all online and completely free. Another cool thing about this option is you can still donate your organs to people needing transplants. The body farm happily takes whatever's left.
Grow a tiny part of a forest
Your body could become a tree or don a $1,500 "infinity suit," which minimizes its toxic impact through a process called mycoremediation. The suit's "biomix" of mushrooms helps the body decompose and return its nutrients to the earth. It's part of the green burial movement, and instead of a grave marker, you can look up your loved one's GPS location.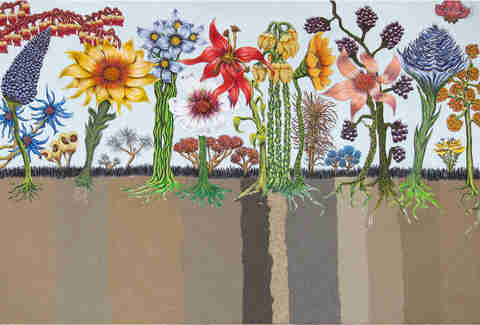 Become a work of art
Houston artist Wayne Gilbert makes art from cremated human remains. "Each of us [when cremated] has our own earth-tone color," he says. "Every different color [on the canvas] is a different human. If you see 20 colors, it's 20 humans." Most of Gilbert's materials are unclaimed remains sourced from funeral homes, but he's open to receiving donations. "People could just email me," he says.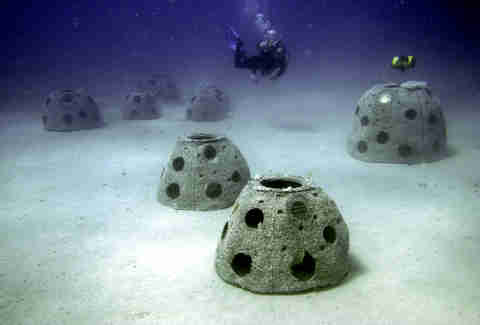 Turn into a coral reef
Eternal Reefs tackles two issues -- marine conservation and the grieving process -- by mixing cremains with concrete to form a "gigantic reef ball," says Becky Peterson, a public-relations consultant for the company. "That reef ball is then placed at the bottom of the ocean to replenish the dwindling natural coral reefs and reef systems." The four-day process involves family and loved ones, who can help with everything from mixing the concrete to placing the reef ball. And it's way less obnoxious than "destination funerals," which are apparently a thing now.
 
Donate your body to science
If doctors find a cure for Alzheimer's, cancer, MS, or any other diseases currently ravaging mankind, it's thanks to the many unsung heroes who donated their bodies to science. You can join them and get cremated for free. Which means your family can afford to shell out to turn your cremains into a show-stopping diamond ring. "Oh, this old thing? It's just my uncle, who greatly advanced medical knowledge AND has a sparkling presence."
Shoot it into space
My former boyfriend used to talk about how he wanted his ashes to be shot into space. He needed a heart transplant so he spent a lot of time thinking about these things. And what do you know, Celestis Memorial Spaceflights offers that very service: the service will send your ashes into orbit, to the moon, or into deep space for prices ranging from $1,295 and up. Those who don't feel the need to leave Earth's atmosphere can put their ashes in a really pretty fireworks display by Heavens Above Fireworks.
If you're wondering whether he got his transplant, the answer is no. He died of congestive heart failure at age 28. So register to donate your organs before you choose any of these options. Giving the gift of life is probably the coolest thing you can do with your body when you die.
Sign up here for our daily Thrillist email, and get your fix of the best in food/drink/fun.
Missy Wilkinson is making a Facebook event for her funeral and optimistically setting the date for the year 2098. Until then, follow her at @missy_wilkinson.