You Probably Don't Need to Eat Before Taking Painkillers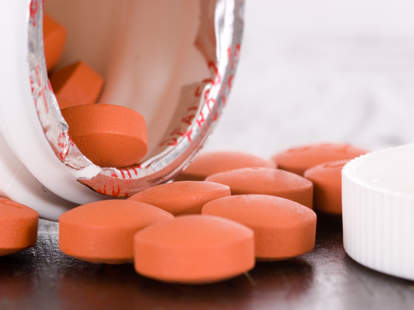 Unless you're a bouncer named Dalton, you've probably taken your fair share of pain meds, like Ibuprofen, over the years. And you know you're supposed to wait until you've eaten food before you can take them. But is there really a reason you have to do that? 
The Australian Medicines Handbook recently changed its advice on taking such painkillers, saying it's OK to take them with just a glass of water, according to a report by AJP, an Australian pharmacy news site. Specifically, the handbook states, "Take oral doses with a glass of water. It may be taken without food but if this upsets your stomach, try taking it with a meal." In the US, the FDA recommends taking them "with food or milk if stomach upset occurs."
As Ian Musgrave, a Senior lecturer in Pharmacology at the University of Adelaide, explains on Gizmodo, people think this is a big deal because previously, some doctors recommended only taking the drugs after a meal in order to protect your stomach. Painkillers are among drugs known as non-steroidal anti-inflammatory drugs (NSAIDs), which after chronic use can actually damage your stomach lining and even lead to ulcers and gastritis. 
But Musgrave said it's really not something to worry about. "Overall, changing from taking NSAIDs like ibuprofen with food to just water -- unless there is stomach upset -- may improve pain relief and is very unlikely to harm people who take the drug occasionally and as directed," he said. "Those who use ibuprofen and other NSAIDs for chronic pain relief, however, should consult their doctor about how best to take it."
Or, you know, you can just suck it up and live by the words, "pain don't hurt."
Sign up here for our daily Thrillist email, and get your fix of the best in food/drink/fun.
Tony Merevick is Cities News Editor at Thrillist and doesn't take painkillers because "pain don't hurt." Send news tips to news@thrillist.com and follow him on Twitter @tonymerevick.