Finally, There's Proof That You're Just Naturally Lazy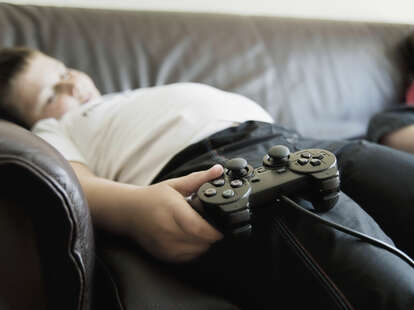 Let's face it, we'd all rather kick back and binge-watch "Parks and Recreation" episodes (they go by so fast!) instead of actually going to a park and recreation-ing, or exercising. While that's obviously the lazy thing to do, it turns out we're actually programmed to be, well, lazy, according to a report by TIME. So, it's really not just you, you damn slob.
In fact, a new study published in the journal Current Biology found that when we actually do decide to get off our asses, our brains could be wired to make our bodies do it in the laziest and easiest way possible to use less energy. With that said, your nervous system might actually be working against you, even though you have the best intentions (and courage) to get up and go for a run. This explains a lot, right?
Researchers outfitted nine people with robotic exoskeletons -- basically, fancy leg braces -- that increased the resistance in their knees when they walked on a treadmill, then measured how their gait changed to adapt to the pressure. As you might guess, the participants adjusted the way they walked in a matter of minutes to preserve energy, or calories, according to the report.
"The nervous system is capable of doing this energy optimization and does it below the level of your conscious awareness to such a fine degree," Max Donelan, professor of biomedical physiology and kinesiology at Simon Fraser University in Canada and co-author of the study, told TIME. "This is the first real strong evidence that the nervous system even has the ability to do that." While interesting, and a tad validating, it's probably not time to stop feeling guilty about being lazy.
If anything, the findings suggest your brain is actually making it harder for you to burn off calories while exercising, which is basically the most uphill of uphill battles ever. So, uh, good luck with that whole weight loss thing, guys...
Sign up here for our daily Thrillist email, and get your fix of the best in food/drink/fun.
Tony Merevick is Cities News Editor at Thrillist and really needed to read this article. Send news tips to news@thrillist.com and follow him on Twitter @tonymerevick.