Surprising Foods With More Calories Than a Big Mac
If there's a poster child for so-good-but-so-bad-for-you foods, it's the 540-calorie Big Mac. But the fast-food favorite isn't the only food out there that puts a dent in your daily diet; the choices below surprisingly surpass the burger's caloric content -- though that definitely doesn't make most of them unhealthy.
Even though the calorie is far from a perfect measure of health (especially when you're comparing apples to Big Macs), it's worth knowing that these foods pack in even more of a caloric punch than those in the signature sandwich from McDonald's.
Caesar salads
With few toppings, it's on the simpler side of the salad spectrum, but make no mistake: the Caesar salad is often pretty high in calories. In fact, the new one from Micky D's outdoes the Big Mac by far. With crispy chicken and dressing, it clocks in at 730 calories. And take the one served at The Cheesecake Factory. Without chicken, it's got 860 calories; with chicken, it'll set you back 980 calories. But at least you're getting some greens! Silver linings, friends.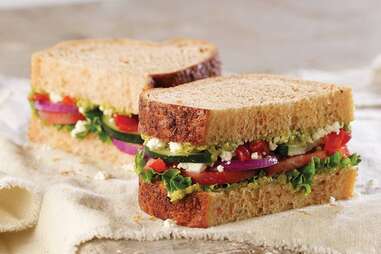 Veggie sandwiches
You know it's a cruel, cruel world when you've traded bacon in your sandwich for an option that's still pretty calorie-dense (albeit more nutritious and less fatty). And that's more or less what happens with some veggie sandwiches, like the Mediterranean veggie sandwich at Panera, which has 570 calories, or the 690-calorie vegetarian option at Jimmy John's.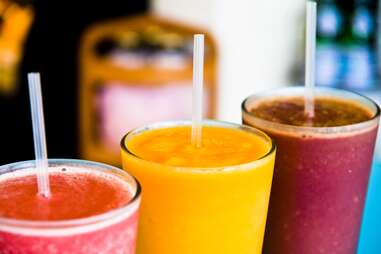 Smoothies
Now, smoothies obviously vary by location and content, but they can definitely be sneaky calorie bombs. Some surpass the Big Mac by 15 calories (with peanut butter), others by 35, and still others by 50. So keep on sippin' on -- but maybe keep tabs on it.
Two sushi rolls
The last time you went out for sushi, you probably ordered at least two rolls -- even though they objectively suck. And while sushi can be pretty nutritious (healthy fats FTW), it can also ratchet up the calorie count, even if you stay away from the tempura options.
A salmon avocado roll and rainbow roll have about 304 and 476 calories, respectively, so you're facing a 780-calorie situation right there. Sure, fish and avocado are better nutritionally than ground beef and three rolls, but still more calories than the burger.
Quinoa bowls
Protein-packed and fiber-laden, quinoa's good stuff that you should totally eat. In bowl form, however, the calories can add up, and that may have something to do with the fact that quinoa's got 222 calories per cup. Throw in some avocado, cheese, and the like (like they did here), and you could be looking at 610 calories or more.
Rice bowls
Before Chipotle made it on to some official shit lists (ahem, the CDC's), the chain known for portraying itself as a healthier alternative to classic fast-food joints offered its burrito bowl to those looking for a lighter alternative to the burrito. At essentially its barest -- just chicken, brown rice, and black beans -- the bowl comes in at 510 calories. Add some much-loved guacamole (obviously), and the calorie count jumps to 740.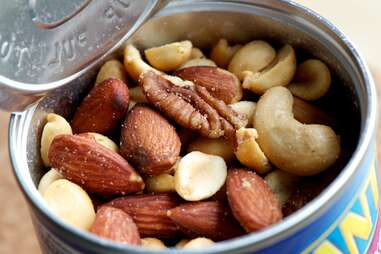 Mixed nuts
Nuts seem innocuous enough: they offer plenty of nutritional benefits, and they're generally great snacks. But calorie-wise? Well, they can get up there; you're consuming 886 calories for every cup of mixed nuts -- way more than the burger above. Just, you know, don't eat a cup of mixed nuts for lunch.
Sign up here for our daily Thrillist email, and get your fix of the best in food/drink/fun.
Alexandra Duron is a freelance writer for Thrillist who chops up Big Macs and puts them in her quinoa bowl. Follow her on Twitter and Instagram at @alexduron.