You know what they say: you can't drink all day if you don't start in the morning. They also say it's important to begin the day with a healthy breakfast. These two platitudes intersect precisely at... boozy brunch drinks!
So, which cocktails will get you hammered without making you feel like you're doing something completely terrible to your body? Chef and Shanti Bar co-founder Lauren Feingold and dietitian Molly Kimball drop the day-drinking knowledge and rank brunch drinks from worst to best.
6. Frozen, blended coffee drinks
"Anything coming out of a machine, I would say avoid," Feingold says. "It's going to be basically like having a milkshake." If you're hankering for a shake, cool! Go for it. Otherwise, ask yourself how well all that cream and sugar is going to sit when you're chowing down on buttery waffles, eggs Benedict, and French toast.
 
5. Brandy milk punch
"This is obviously one of the worst," Kimball says. "It's heavy cream and brandy. So it's really high calorie."
 
4. Bellinis
A ton of sugar can hide out in Bellinis, which consist of peach nectar, sparkling wine, and a dash of raspberry liqueur. "Avoid frosty, sugary drinks," Feingold says. "If it's super sweet, it's not going to do you any good."
3. Screwdrivers and mimosas
Since these orange juice-based cocktails consist of only two ingredients, they're pretty hard to mess up. What you want to be aware of is the type of juice. Is your brunch spot an Edison bulb-hung establishment that hand-squeezes juice from locally sourced oranges? If so, you're in screwdriver heaven. "If not, then have a glass of Champagne," Feingold suggests. "For me, I would rather just have the Champagne, anyway."
Same deal goes for mimosas, though you can tweak those by subbing in pomegranate or cranberry juice for orange juice, Kimball says. While good old OJ is high in vitamin C, pomegranate juice brings the potassium and cancer-fighting antioxidants, and cranberry juice has more of vitamins E and K.
"Mimosas I put in the middle [of the ranking]," Kimball says. "A brut or dry Champagne isn't super high in sugar, so that with a splash of OJ isn't bad."
 
2. Coffee and whiskey
There's nothing like the mild speedball effect you get from combining caffeine and alcohol, am I right? Turns out, spiked coffee is one of the healthier drinks. "Whiskey and coffee is not bad, because whiskey is very low in sugar," Kimball says. Plus, coffee is basically the fountain of youth in a microwave-safe cup. The antioxidant-rich brew makes your brain happier, your heart stronger, your memory better... and that's just for starters.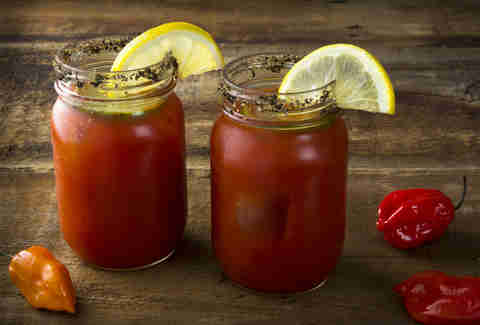 1. Bloody Marys
Spicy, delicious, and brimming with tomato juice, celery sticks, and green beans, Bloody Marys are the boozehound's answer to a green smoothie. 
"Bloody Marys are my top pick," Kimball says. "Nutritionally, tomato juice is rich in vitamins and minerals. Tomatoes also have lycopene, a cancer preventative. And nutrients are better absorbed from cooked tomatoes or tomato juice. So you get some really decent nutrition. And Bloody Marys are so filling, they can curb your appetite before that brunch."
One caveat: make sure the Bloody Mary mix is house-made, Feingold says. "If it's coming from a mix, sodium levels are probably high," she says. "[In that case], I'd go light on the mix and double up on the vodka."
Can we pause and applaud Feingold, who orders doubles and mimosas -- hold the OJ -- at brunch? She is a true day-drinking champion. And since you apparently just researched this shit on the internet, so are you. Another round of applause!
Sign up here for our daily Thrillist email, and get your fix of the best in food/drink/fun.
Missy Wilkinson goes to bed so early, she's becoming a day drinker by default. Follow her at @missy_wilkinson.