Snacking between meals is no big deal, but it's tricky. Lots of foods out there will leave you feeling unsatisfied in no time and prone to eating more and putting on pounds later.
"People think that for [good] metabolism you have to eat all through the day, but that's a complete myth," says Kimberly Gomer, a dietitian at Pritikin Longevity Center. "If you're looking to stay full, you can do a combination of fiber and protein or fat. But if you want to stay full and lose weight, you need to eat foods that are low in calorie density."
In other words, that candy bar isn't going to keep you full OR help you keep off the pounds. But you already knew that. If you want to stay full and steer clear of the office vending machine, your keys are protein, fiber, and healthy fats. Here are some ideas.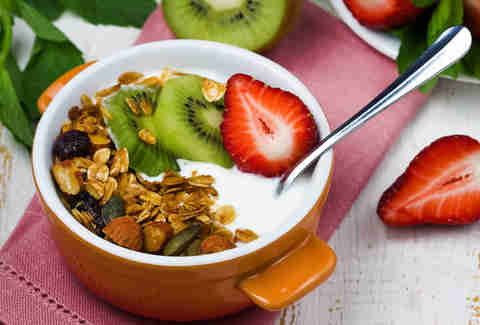 Greek yogurt and fruit
Greek yogurt may be light, but it's loaded with protein (about the same amount as you'd find in a piece of lean meat, in fact). It takes its sweet time to digest, making you feel satiated longer. Gomer suggests adding fruits like raspberries for extra fiber, and staying far away from almonds and other nuts as toppings.
"Almonds are a great choice for satiety but worst choice if weight is any kind of an issue for you," she says. "People think almonds are a great snack, but a cup of almonds is in excess of 800 calories. It sounds like a lot, but all it takes is a couple handfuls."
Hummus and veggies
Hummus comes from chickpeas, and chickpeas come from the Protein Gods. But it's also gloriously low in calories, and especially filling when paired with veggies like carrots, tomatoes, and celery, which are high in fiber and water content.
But according to our dietitian, if you buy your hummus ready-made, you should also always check for fat content. "Some hummus has a lot of extra oil added in, and oil is something to avoid like the plague if you don't want to gain weight," Gomer says. "I like to recommend a brand called Engine 2 available at Whole Foods, which has no oils added."
Or, here's a delicious 10-minute recipe for hummus you can easily make at home from scratch.
Chia seeds
Belly rumbles don't just come from hunger, but also dehydration. You can always drink more water, but good luck with peeing a bazillion times -- so why not try sprinkling chia seeds on your snacks, like that yogurt and hummus you're already eating? Chia seeds are a perfect vessel for getting H2O into the body, seeing as they can hold up to 12 times their weight in it.
"It's a food that's not only high in fiber but also gives you omega-3s, so they are one of the best ways to get that," says Gomer. "Especially for vegetarians, vegans, and people who don't want to eat fish."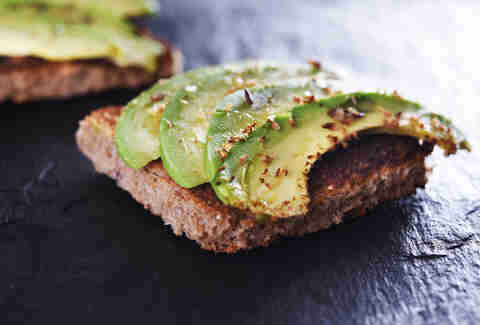 Avocado toast
It's on every hipster restaurant menu for a reason! Avocados are chock-full of monounsaturated fats (aka the good ones), which will always leave you feeling comfortably fed. But because of that, Gomer says they can also be a "big no-no for weight loss."
If you can't stand the thought of living in a world without guac, you can always try adding cayenne pepper to offset some calories, since it might help you eat less and burn more calories.
Sweet potatoes
Sweet potatoes are high in fiber and give you loads of carotenoids, which are those health-promoting antioxidants that make sweet potatoes orange. And they just feel heavy. Try 'em baked, mashed, or even cut up into fries to take to work the next day. "You can put some salsa or cinnamon on it, or even a little Greek yogurt on it is interesting," she says.
Bean dip
Beans -- really any kind of plant-based protein, for that matter -- will keep you feeling fulfilled for a long time. You can always do an overnight salad, or Gomer suggests mashing them up and throwing in garlic and spices to make a dip for dunking veggies.
Edamame
Even more low maintenance than that in the bean department is edamame, which contain 16g of protein a cup and only 190 calories.
"Edamame is something very easy, and you can buy them fresh or frozen at Trader Joe's," says Gomer. "They're really friendly to pack and eat on the run."
Oatmeal
OK, fine -- oatmeal isn't as sexy an afternoon snack as edamame, but when it comes to beating hunger, she's Old Faithful. People who eat oatmeal feel less hungry for up to four hours compared to those who eat cereal, and that's real, live science, so grow up, put away the cereal, and get used to oats.
Hard-boiled eggs
One of Gomer's favorite snacks is a hard-boiled egg with the yolk removed, and filled up with hummus and a sprinkle of paprika. Think of it as a deviled egg alternative.
"You can make a bunch of them at the beginning of the week, and bag it along with raw veggies," recommends the dietitian. "Convenient food doesn't have to be processed and unhealthy."
Sign up here for our daily Thrillist email, and get your fix of the best in food/drink/fun.
Barbara Woolsey is a Berlin-based writer with a high metabolism. Follow her on Facebook and Twitter.