Hormones With Legs: Lessons From 40 Years Teaching Health to Teenagers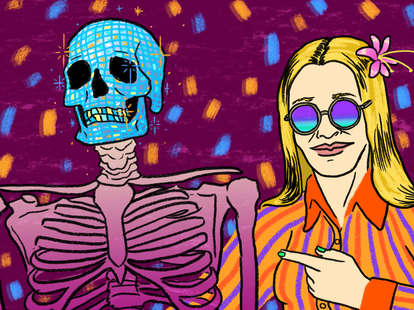 Daniel Fishel/Thrillist
Daniel Fishel/Thrillist
Deborah Tackmann has taught health to elementary, middle- and high-school kids since 1976. Since 1976! Back then, the AIDS epidemic hadn't begun, only 5% of kids were obese (compared to today's 17%), and being gay was a "lifestyle choice."
So how have health curriculums evolved? Tackmann, who has more than 400 students this semester alone, describes what's changed in her 40-plus years of teaching -- and what has stayed the same.
When you started teaching in the 1970s, what was the state curriculum like?
We didn't have one. There was no real direction on a local, state, or national level.
Predominately, most people who taught health looked at lifestyle choices -- what are you doing today that improves your health or prevents diseases? It was a systems approach: here's the respiratory system, the circulatory system. What are the components and what can we do to help improve those systems?
And we didn't know much. The research wasn't really there. We did have minimal professional development. I remember going to a convention my junior or senior year of college, but it was focused on physical education -- more of a disease-prevention format. I would constantly go to professional development workshops, and in my fourth year of teaching, all of a sudden we realized, "Oh, we have an issue with suicide. Maybe we should talk about it." But we didn't know how to teach it. We just navigated it the best we could.
What was it like teaching health in the 1980s during the AIDS epidemic?
When HIV came out, it was like, "How are we supposed to talk about this? We aren't supposed to talk about penises or vaginas, but we're supposed to prevent this disease?" We didn't have national sex education standards. We just had this disease we knew very little about. One time, I was doing a staff development workshop for the Northwest Wisconsin AIDS Resource Center, and the school said, "We want you to speak to our students, but you can't talk about x, y, and z." Even today, there are states that won't let you talk about anything except holding hands. In many ways, in 2016, we are still teaching like it's the 1970s.
Are there things you aren't allowed to talk about in health class, even today?
I teach in Wisconsin, where the individual school board has to approve my health curriculum. If they don't approve it, I can't teach it. I can talk about the benefits of waiting to have sex until you're married. And every state has things I have to talk about: suicide prevention, sexual assault, and things of that nature.
As far as human growth and development is concerned -- or what we call sex education -- it varies from state to state. And most states have a law that parents can choose to pull their child out of the human growth and development curriculum. After sitting down and talking to most parents who want their child to opt out, they understand we actually are on the same page.
What is sex education like in 2016?
It's about healthy relationships and decision making, and then you have the birth control and STDs and STIs. It's a whole gamut of things to help a person navigate that crazy life of adolescence. My middle schoolers are hormones with legs. So how can I give them the skills to access proper information, set goals for themselves, and say no to certain behaviors but yes to relationships?
What do you consider the biggest change in health education from 1976 to 2016?
The whole thing. The target has always been the same: help kids make choices to keep themselves healthy. But the curriculum has changed, because everything has changed from 1976 to 2016. How kids navigate the 21st century is different. They have an average of 7.5 hours of screen time a day. Has that had an effect on physical activity and obesity? Probably. We didn't know much about transgender people or HIV in the 1970s. The world is different; therefore, the curriculum needs to be different.
What kind of changes have you made in your classroom?
In the 1970s, I said, "Here's a worksheet, here's your book," and I'd expect people to make good choices about their food. Now you get an app and have them go to the grocery store and find out what's the better cereal and why. We also know in theory that kids make decisions impulsively. If you attach an emotion to something, they're more likely to remember it.
What's changed in how you talk about LGBTQ health?
The language we use as health educators now embraces all people. We're not assuming all people are straight, so we use terms like significant other, partner, or support person. If you talk about STDs just being transmitted between a boy or a girl, you eliminate a population. They may think, "I'm a guy and my partner is a guy, so I don't have to worry about this." The language needs to be inclusive of all relationships.
As far as physical education goes, I want to make sure that if my kids have to dress out in gym clothes, they are comfortable changing in that locker room environment. If not, do we need an environment where transgender kids feel comfortable? How can I create a climate that feels emotionally and physically safe and is conducive to learning?
I began teaching this way in the mid-1980s. But a lot of people haven't reached it yet.
You sound like a great teacher.
I do my best to help these awesome kids make positive choices that will add quality or quantity to their dash -- the line on their tombstones between the birth and death dates. How can I help them take ownership of something so precious? Making that connection and helping them navigate life... it doesn't get better than that. It is exhausting, exhilarating, and it keeps me in the field. I just started my 41st year teaching, and I have a lot to learn.
Sign up here for our daily Thrillist email, and get your fix of the best in food/drink/fun.