No-B.S. Answers to Questions You're Terrified to Ask About Donating Blood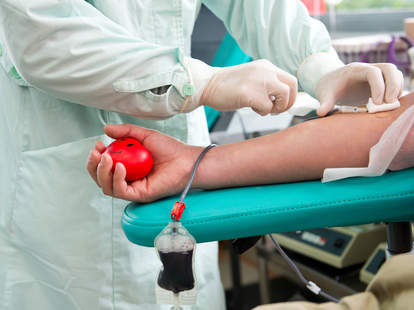 The amount of blood donations take a dip this time of year, due to travel plans and holiday madness that cuts into regular donors' schedules, but the American Red Cross reminded healthy Americans this week that giving blood is more important than ever. .
"The need for blood doesn't take a break for the holidays," Bernadette Jay of the Red Cross told WVEC. Accordingly, as a blood donor (I've done it five times), I'm here to answer some basic questions everyone seems to have about giving the gift of life.
How much blood do you donate when you give?
Average-sized adults typically walk around carrying about 10 pints of blood in their bodies. That's more than you need to function, and about 1 pint typically goes into a donation.
How long does it take to donate blood?
It takes about 8-10 minutes for 1 pint of blood to leave your body, but the whole process can take about 1 hour and 15 minutes. That time can vary depending on your health history, body type, and other factors. Usually there's juice and snacks.
How often can you donate blood?
The American Red Cross recommends donors wait at least 8 weeks (56 days) between donations of whole blood. Power Red and platelet apheresis donations work differently.  
What should you eat before donating blood?
Iron-rich foods are the key here. Red meat, beans, seafood, dark-green leafy vegetables like kale or spinach, or poultry all work fabulously. You'll want to drink an extra 16 oz. of fluid prior to your donation (booze doesn't count), and eat a healthy meal beforehand.
 
Can you donate blood if you have a tattoo?
Yes, but this is tricky, so be sure to get it right before you go. Due to hepatitis-related concerns, in the United States you cannot donate blood within 12 months of getting a tattoo if your state does not regulate tattoo facilities. (States that do not include Washington D.C., GA, ID, MD, MA, NV, NH, NY, PA, UT and WY.) Tattoos done in all other states -- so long as they were applied in licensed establishments using sterile needles and ink that was not reused -- are fine. If you have questions, always ask the folks taking your information when you give blood.
How old do you have to be to donate blood?
At least 17 years old, or 16 with the consent of a parent or guardian. There's also no age limit to stop giving blood, as long as you're healthy enough to lose a pint at a time.
What blood type is the universal donor?
Type O negative is the universal blood type for red blood cells. Plasma is different; for that the universal donor has Type AB blood.
How much do you have to weigh to donate blood?
For your own safety, you must weigh at least 110 pounds, per the Red Cross and other blood donation services. 
 
Can you donate blood if you smoke weed?
Yes. After contacting several blood donation organizations, the good people at Mary Jayne's Diary ascertained for marijuana aficionados everywhere that: "Blood centers do not test for THC in your blood; however, they may turn you down if you are visibly high at the time you arrive to give blood." Which makes sense.
How long after donating blood can I exercise?
Everyone reacts and recovers differently, and there is no sweet spot. However, the American Red Cross recommends most donors wait at least5 hours after giving blood before attempting any kind of heavy exercise. Definitely monitor yourself and take it easy. To be safe, just take the day off.
Can you donate blood if you have herpes or other STIs?
Let's be clear, if you have HIV or hepatitis -- or have been exposed to those diseases -- you cannot donate blood. Donors who have contracted syphilis or gonorrhea should wait at least 12 months before making a blood donation. Donors with chlamydia, HPV (genital warts), or genital or oral herpes can donate blood, as long as they are feeling healthy and nothing else restricts them.
Where can you donate blood?
The American Red Cross is the largest blood donation organization of its kind in the country, and have blood drives all the time. Here's how to find one near you.
Sign up here for our daily Thrillist email, and get your fix of the best in food/drink/fun.