Why Do Guys Have Wet Dreams?
Dudes get dealt a pretty difficult card in the early waking hours: not only do they battle morning breath and eye crust, but they're also stuck with the added risk of unconscious tent-pitching and, even worse, waking up to a random, sticky love stain on their sheets in the middle of the night.
Wet dreams are a messy reality, and in an effort to find out WHY, we spoke with Dr. Ian Kerner, licensed psychotherapist and sex counselor, as well as Dr. Darius Paduch, associate professor of urology and reproductive medicine at Weill Cornell Medical College. Here's the inside scoop on sleepytime goop.
First off, what are wet dreams?
"A wet dream, medically called a nocturnal emission, is a spontaneous ejaculation that generally young men entering puberty experience when they are not always masturbating. The wet dream relieves the build up of semen," Dr. Kerner explains. "They are healthy and normal and not really within voluntary control. Some boys will recall an erotic dream, but most do not."
"Biologically it is connected to maturity," says Dr. Paduch. "Ejaculation stems from puberty. A lot of boys will have nocturnal emissions and then begin masturbating around 12 or 13. Nocturnal emissions are associated with REM sleep, which is where we have those vivid dreams, and these dreams don't necessarily have to be sexual." Dr. Paduch goes on to explain that on average, younger guys will have one nocturnal emission every two to three weeks unless they ejaculate regularly -- which, let's face it, isn't really that tall of an order.
Shutterstock
Why do guys get them?
"We don't really know why it happens. It happens in animals the same way. Evolutionarily speaking, it's a way of naturally supplying the tissue with blood and sustaining the optimal health of the penis," says Dr. Paduch.
But wet dreams aren't necessarily limited to the under 13 set, so don't take the plastic off those bamboo sheets just yet. Dr. Kerner says it's not nearly as frequent as it might be for a young, budding teenager, but adults can get nocturnal emissions, too. According to Dr. Paduch, "as we get older and have regular sex and masturbate, then the frequency of nocturnal emissions decreases to probably one in every six to eight weeks. Some men never experience them."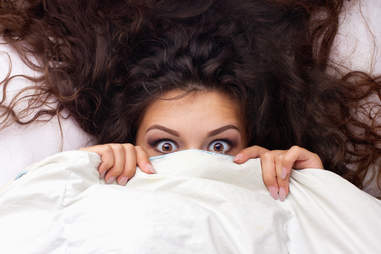 Shutterstock
Can girls have wet dreams?
Wipe that smirk off your faces, ladies, because you too can have wet dreams -- although yours are far less… messy, and frankly a lot more fun. OK, you can keep smirking.
For women a wet dream is called a "nocturnal orgasm," and it can happen entirely without physical stimulation. Blood flow to the genitals increases during REM sleep, much in the same way it does when a woman is aroused when awake. Paduch says that the amount of natural lubrication in the vagina increases during erotic dreams, and the results can be quite… explosive (yeah, we went there).
A study done by the Journal of Sex Research found that 85% of women had experienced nocturnal orgasms by the age of 21. For women who are lucky enough to be touched by this specific and sexy angel, sleep-gasms can happen multiple times per year.
Sign up here for our daily Thrillist email, and get your fix of the best in food/drink/fun.
Meagan Drillinger is a contributing writer for Thrillist and is VERY excited about going to sleep tonight. Follow her on Twitter, Instagram, and Facebook at @drillinjourneys.