How to Get Off Your Ass and Start Exercising, Even if You're Terrified of Gyms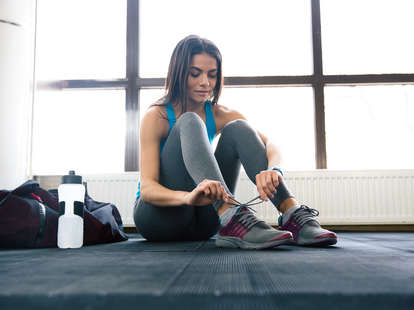 Between finding the time and motivation, there's always a reason to avoid working out. But maybe even worse is the intimidation factor: there are too many foreign contraptions, too many grunting weightlifters, too many fit bodies in $120 stretchy pants, and too many eyes watching your every move.
Or so you think. "The truth is, no one is looking at you as much as you think they are," says Emily Cook Harris, founder of EMPOWERED NYC and instructor at The Fhitting Room. "So reframe the experience. This is my time to get away from my other responsibilities and have 30 minutes to myself. If it's nothing more than that, it takes the pressure off." Easier said than done, though, so if you still struggle to move your ass, try some of these tips.

On your first visit, just scope out the space without exercising
When you sign up for a gym, a staff member should give you a tour of the facility. Once you feel acquainted, Cook Harris suggests grabbing a spot on the mats for a stretch. Sure, warming up is an essential part of working out, but the mat area is usually located in a part of the gym where you can sit and observe everything that's happening around you -- without looking like a total creeper.
Actually use that free personal-training session
Most gyms offer a complimentary one-on-one workout when you sign up. "Working out with trainer takes the mind work out of the gym," says NYC-based personal trainer Devin Thomas. They'll listen to your exercise history -- even if it's only lifting chips loaded down with dip to your mouth -- learn about your goals, and help you create a plan.

Don't be dumb -- choose the path of least resistance
Whatever you do, don't be like Drake. Going from zero to 100, real quick, will do nothing but leave you feeling defeated. Start out with a couple 20-minute sessions per week. That way, if you achieve just that, you're golden; if you do more, you'll feel like you just completed a marathon (in a good way).
When it comes to choosing an activity, think about what you're familiar with. Did you bike a lot as a kid, or run track in high school? "Choose the path of least resistance, what feels easiest," Cook Harris advises. If you have even the most basic understanding of a form of exercise, or at least remember that you enjoyed at some point, you're bound to feel more confident.
Regardless, always, always "know what you are going to do so you don't find yourself wandering around aimlessly," says Thomas, who likes building workouts on the app BodySpace. Cook Harris suggests Nike + Training Club, which has videos of exercises and a built-in timer.
Find anonymity in a group fitness class
Gyms and fitness studios offer everything from spin to interval training to yoga, so you'll probably be able to find something that's not totally objectionable. Classes are a great way to get introduced to foreign machines, weights, and movements. Show up 10 minutes early to introduce yourself to the instructor and grab a spot -- Cook Harris suggests the middle row towards the side, where you can clearly see the teacher without putting yourself in the spotlight.

Spend time making yourself comfortable
Sounds simple, but a lot of people treat exercise as a chore, something to be endured. Don't do that! If you don't want others watching you work out, try to avoid peak hours when there's bound to be a line -- sometimes bordering Disney World status -- for equipment. The least-busy times are during the day and on weekends. Wear something that makes you feel good. It doesn't need to be top-of-the-line gear, but like in any other situation, the better you feel, the better you'll perform. Make a playlist that motivates you, or bring a friend to make the time pass easier.
Most importantly, remember that very few people feel 100% confident at the gym. And all those people sweating around you are probably focused on just that. So do the same: put away your cellphone, don't think about work, and take the time for yourself.
Sign up here for our daily Thrillist email, and get your fix of the best in food/drink/fun.
Kristin Schwab writes about health, fitness, and the arts. She knows you're kidding yourself when you insist that green juice tastes good. Follow her on Twitter: @kkschwab.