The Workout You Won't Stop Hearing About in 2017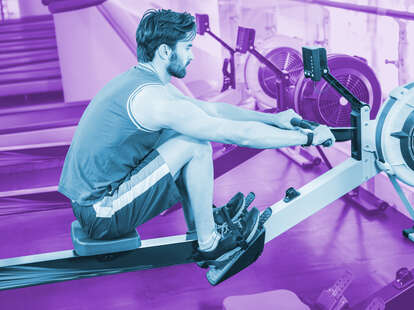 wavebreakmedia/Shutterstock/Evan Lockhart/Thrillist
With their sleek aesthetics, club-inspired music, and cult-like followings, cycling studios have been on top of the trendy boutique fitness totem pole for the better part of the last decade, led by grapefruit-smelling, feel-good-mantra-spouting SoulCycle (which people seem to either love or hate).
Competitors such as Flywheel and Peloton have tried to knock Soul off its throne, but there's a whole new game-changer beginning to take over the world of sweaty, sexy group workouts: indoor rowing.
That's right, the machine that everyone ignores at the gym, the same old one collecting dust in your grandpa's basement, is poised to be the new boutique fitness go-to. And in some cities, it's already happening. Here's why.
Rowing is an excellent full-body workout
Though it used to be no more than an excuse for douchey bros to scream "STROKE!" at each other in between Ivy League frat parties, rowing's actually an intense workout. If you've never tried it before, you should, if for no other reason than that one of the keys to maintaining a successful fitness routine is to mix up your workouts. It seems inevitable, then, that a population obsessed with cycling and treadmill workouts would eventually turn to a new form of exercise to satisfy their lust for fitness diversity.
Rowing demands the use of your arms and legs, unlike cycling, which focuses primarily on your lower body (aside from those dinky 2lb dumbbells you use for like five minutes in SoulCycle). If you nail down the proper form, it can help you build power and strength. Plus, it's a killer cardio workout, and a low-impact option for people with joint pain. When done at even a moderate pace, rowing can really increase your heart rate -- 30 minutes of rowing can burn around 200-300 calories.
As one of the best cardio machines at the gym, it's no wonder the rower has become the focus of entire 45-minute classes and specialized studios.
Rowing studios are popping up like crazy
There's a cycling spot on virtually every corner in New York City -- there are 10 in my neighborhood alone, not including all the fancy gyms that offer their own versions of spinning. But rowing has been creeping upward in popularity.
Offering similarly modern studios and branded apparel to compete with their spinning counterparts (and perhaps to repackage the boring piece of equipment Frank Underwood uses in his basement), rowing-only boutiques have been expanding in major cities like procreating rabbits.
The first rowing studio in NYC was Brooklyn Crew, which opened in 2013 but subsequently closed. Like most trends started in Brooklyn, though, row studios migrated over the East River and began popping up in Manhattan. CITYROW opened in Union Square in January 2014, and a year later expanded to another location on the Upper East Side.
That same year, Row House opened in Columbus Circle (followed by locations in Chelsea, the Upper East Side, and one coming soon to DUMBO Heights). Now, these NYC studios are joined by EngineRm, Current, and EAST END ROW, plus GoRow which has been open in Hoboken, New Jersey since 2011, which means, confusingly, that Hoboken was actually a trendsetter.
Other popular row studios around the country include Iron & Oar in Chicago, LIT Method and iRow in Los Angeles, Rō Fitness in Austin, and weRow in Minneapolis.
The classes are actually pretty fun
How many calories you burn or how sore you are the next day mean nothing in the boutique fitness world if people don't actually enjoy the workout. On paper, the rower might seem boring in a high-tech fitness landscape -- no TVs! It's hard to maintain rhythm to a deep-house beat! You don't get to count steps!
That's where the group classes fit in. Most row studios have incorporated elements of a full-body workout into the class, so you don't have to worry about getting bored by a repetitive rowing motion for 45 minutes. But what's a class actually like?
I took my first row-only class at EAST END ROW on New York City's Upper East Side, the studio's second location after its successful Southampton spot. Of course the first location was in the Hamptons.
The studio itself is pretty small, with about a dozen top-of-the-line WaterRower machines evenly spaced out -- a big upgrade from the cycling studios that pack you into cramped spaces with everyone's butts in each other's faces. The floor had graphics of moving water, and there were oars on the walls, lest we forget what kind of environment we were there to replicate. We were instructed to grab a set of free weights, but began the class on the rower.
I'm familiar with the rower itself, having used it sporadically in the nationally franchised and increasingly popular Orangetheory Fitness classes. But that's no more than 5-10 minutes at a time, usually rowing for distance instead of speed, before switching back to the treadmill or circuits in the weight room. EAST END ROW was another kind of HIIT-style class focused on the rower, with intervals at high speeds to increase heart rate, followed by slower sets to get our heart rate back down. All in an effort to achieve that post-workout afterburn effect.
The class also tries to make unconventional uses for the rower itself, like using one hand, standing to the side, and even kneeling. It's just enough to break up the monotony of 45 minutes of conventional rowing.
The real burn came when we were instructed to use our free weights for some upper- and lower-body moves. I suspect it was the various sets of squats and lunges rather than the actual rowing that made my legs a little sore the next day.
Our instructor didn't light candles, only to blow them out with a command to "find the light within," but she was positive and motivating without trying too hard. I didn't work up as much of a sweat as I normally like to, but overall it was a fun way to mix up my traditional cardio and strength-training workouts (which is usually just me running for 30 minutes and then half-assed dumbbell sets until I get bored).
As more and more row studios start to pop up, they offer a nice reprieve from the cult-like followings and snobbery other boutique fitness classes have -- but as it grows in popularity, even indoor rowing might not be safe from the trendsetting sexy group fitness army.
Sign up here for our daily Thrillist email, and get your fix of the best in food/drink/fun.
Christina Stiehl is a Health and fitness staff writer for Thrillist. She's glad there's no video evidence of her trying to do one-legged squats on the rower. Follow her on Twitter @ChristinaStiehl.