Just the Smell of This Mushroom Can Make Women Orgasm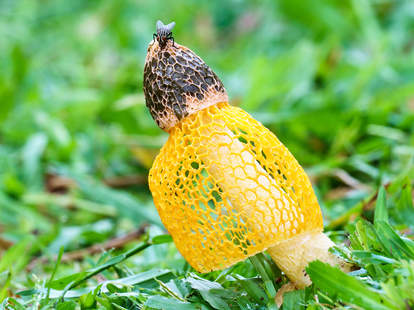 Everyone knows certain mushrooms have "magic" properties, but word is spreading of a rare fungus that's got an even more magic touch -- one that involves no touching at all, but leads to a female orgasm.
Specifically, there's an extremely rare type of mushroom whose orgasmic odor will make some women spontaneously climax -- just by smelling it, according to a report by The Daily Meal. Men who sniffed the 'shrooms, however, said they smelled absolutely awful and didn't experience any of the aphrodisiacal effects. In other words, Sex Panther cologne could be real, and it's not powered by gasoline.
But nobody should get too worked up over the potential portobell-o face, since you'll likely never get your hands or nose on the mushrooms; known as a type of Dictyophora, the fungi have been found in Hawaii and only grow on 600- to 1,000-year-old laval flows, according to the report. Unless you've got lots of 600- to 1,000-year-old laval flows in your backyard. In which case, well, you've got a cool backyard.
Researchers first noted the freaky fungi's sexual properties in the The International Journal of Medicinal Mushrooms back in 2001, but news of their power is just now resurfacing thanks to recent articles. Nearly half of the women in the 14-year-old study experienced a spontaneous orgasm while smelling the mushrooms. "There are significant sexual arousal characteristics present in the fetid odor of this unique mushroom," the researchers said.
Suddenly, the prospect of eating a mushroom pizza becomes all that much more enticing.
Sign up here for our daily Thrillist email, and get your fix of the best in food/drink/fun.
Tony Merevick is Cities News Editor at Thrillist and just generally dislikes mushrooms. Send news tips to news@thrillist.com and follow him on Twitter @tonymerevick.