Laughter Coach? Cuddler? Health Jobs You'd Be Amazed Actually Exist.
Deborah Hanekamp/Thrillist
Deborah Hanekamp/Thrillist
You might think you're up on health and wellness because you went to that yoga class one time, then ate some kale. But for the real health nuts out there, the world goes so, so much deeper. Here are 12 of the most unusual jobs in the health and wellness industry -- so unusual that they might not even seem real.
What she does: "I facilitate laughing for no reason, without the use of comedy, humor or jokes. There is scientific evidence that shows when the body is laughing, whether anything is funny or not, it produces feel good healing hormones such as endorphin, dopamine and and serotonin, but to create a noticeable surge of these hormones, laughter needs to be sustained for five to 10 minutes. This is difficult to achieve by relying on humor alone.
"I am one of thousands of laughter yoga teachers around the world who facilitate laughter exercise classes, laughter wellness, or what I call laughter fusion. I begin laughing without anything being funny, on purpose/intentionally, and my students/clients join in. We laugh while engaging in playful activities. After a few minutes, once the endorphins hit the bloodstream, the whole practice does seem pretty ridiculous and our laughter becomes more heartfelt and natural."
How she got the job: "Many years ago I used to be a stand-up comedienne. Even though I was just starting out and wasn't very good I was always working on jokes and observed that when people were laughing, even though they were just being polite and didn't find me terribly funny, their vibe changed. They appeared to relax and become revitalized. I started doing some research into what was happening to their body and spirit when they were laughing and discovered two groups: The World Laughter Tour and Laughter Yoga International that would train me to be a Certified Laughter Leader and facilitate laughter exercise. I stopped doing comedy and gravitated to the practice where I can deliver immediate laughter results every time. I've been practicing since 2003."
What she does: "I'm a psychic/medium who also does chakra and energy clearing. About 25%of my practice is in this type of work, and the demand for it is growing as people become more aware of its benefits as a healing modality. The healing work is an extension of the work I do in the 'mind-body-spirit' category. That is, the category is sometimes referred to as energy work, or energy healing.
"Being a psychic or a medium requires working with and managing higher forms of energy and vibration that most of us use in our everyday lives. In chakra and energy clearing and healing, I also work with higher forms of energy, manipulating and balancing them. Even though energy is invisible, it is very much present and able to be sensed, shifted, and balanced. Think of it like massage without physical contact. I use my hands, which can sense energy, and tuning forks to sense and redirect energy. Clients can visibly feel the difference after a session, which might last anywhere from 15 minutes to an hour."
How she got the job: "I came to this profession through an unusual transformative experience I had in an 'Intuition Development' class in New York almost 10 years ago. After that, my life shifted and I began to follow a different path. I'm a former Wall Street money manager, CNBC commentator and Johns Hopkins professor. I left a high-profile life to pursue a life of purpose and spirituality."
What he does: "We physiologically change the brain to operate more optimally. There is now a revolutionary integral/holistic personal development program called Higher Brain Living, based on both modern science and ancient wisdom. We have found that those who are involved in health and wellness practices resonate with this program and become more devoted to the practice and get accelerated results. This is because Higher Brain Living produces the strongest known organic energy surge to the prefrontal cortex, the part of the brain associated with high-end consciousness, thinking, emotional well-being, and change. This energized PFC can be applied to any area of life to produce sustainable change."
How he got the job: "I was already published in the psycho-spiritual understanding known as the Three Principles (Mind, Consciousness & Thought) for three decades. I was not looking for anything to add to my work, but when I saw the groundbreaking nature of Higher Brain Living and that it physiologically energizes the part of the brain made for accelerated and sustainable change, I could not deny its profound reverence. I was invited to join the national team with its founder and have been introducing approaches to the public and to the mental health/addictions, health and wellness, and business leadership fields ever since."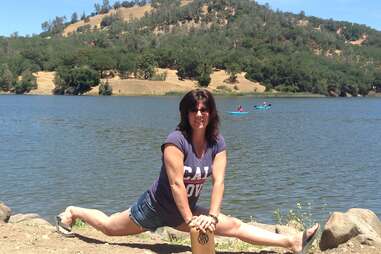 What she does: "My background is personal training, however, I don't really do that anymore at all. What I do now is teach Block Therapy. It is very, very different. The idea behind this work is that I have my participants lie on a specially designed cedar wood block in 47 different place mounts around the body for three minutes at a time while connecting into the diaphragmatic breath. It is not like yoga; it is not like silent meditation, and it is actually painful while working through the fascia systems of the body. Changing the breath it helps anxiety, depression, pain, headaches, and digestion. Many people are breathing through the chest muscles in this day and age, and we need to change that, which is what we do with this work."
How she got the job: "I switched from personal training due to headaches, actually. I was 41 when I started to suddenly develop horrific headaches. I pushed through this, continuing to teach and train myself, and I realized my body was not balanced. When I began to use the block, doing just a class or two, the headaches seemed to work through some knots in my neck and went away. I could see how my clients still continued to have pain, weight issues, digestive issues, etc. even though I had them doing exercise and changing their eating habits. When we used the block, the pain would go away."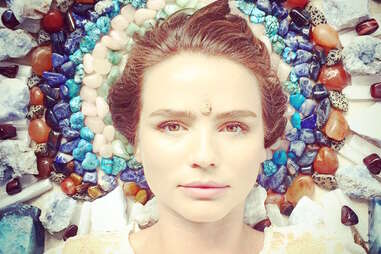 What she does: "A Medicine Reading begins by discussing any intentions you may have, then we meditate together for a moment as I read your energy. You then relax on a massage table as I use a combination of distance Reiki Healing, crystals and Icaros, which are medicine songs from the Peruvian Amazon, to bring spiritual, emotional, mental and physical balance and well-being. After the healing we talk about anything that may have come up during the healing and I prescribe spiritual homework. For example, go outside for a run, or play more, and a healing ritual bath that combines herbs, crystals and salts for you to continue to feel great."
How she got the job: "I've been in the Healing Arts for 15 years via the mediums of yoga, herbal medicine, reiki and as an Amazonian Curandera (read: healer). A dedicated world traveler, I seek the spiritual and esoteric sites of each new place I go. Medicine Readings are an integration of every aspect of who I am as a Seeress, a way to share my medicine and the practices that have healed and balanced me with the world."
What she does: "I teach women to ask for what they want, and men to slow down and feel their bodies. I teach sexual empowerment through consent and choice skills. Everyone gets more comfortable and safe in their body, ready to share it in more fulfilling ways, and more often."
How she got the job: "I was fascinated by sex workers and knew the stereotypes were all wrong. I figured most people, like me, needed to find more successful ways to be embodied for more pleasure, health and spirit. I was right! After menopause I got a new career: sex and intimacy coaching, writing about it, teaching classes, and now I have an online presence with 7 Erotic Nights -- a course in Pleasure for Partners, with coaching phone calls, videos, an e-book and a Facebook page."
What she does: Eva works with Graze, a snack subscription service that delivers boxes of snacks right to your door on a weekly or biweekly basis. Her job is to source a wide variety of ingredients from local spots across the US, like half-popped popcorn kernels from Minnesota, yogurt-coated pretzels from Pennsylvania, brownies from Yonkers, and so on.
How she got the job: "I was working at a PR firm for interior design and architecture when the opportunity to work in the commissary kitchen for Milk Bar (formerly Momofuku Milk Bar) came up. I grabbed it as I had been working in the service industry for years at that point and always wanted more kitchen experience. While at Milk Bar I met my friend and former co-founder of Maiden Preserves, our short-lived jam company. After parting ways I worked with West Elm to help develop the small food program at a handful of their stores and try to integrate local food companies into our flagship "Market" location in Brooklyn. Graze found me after I was there for about a year and everything about the entrepreneurial spirit, desire to work with vendors across the entire world, and focus on health and taste was appealing so I jumped in."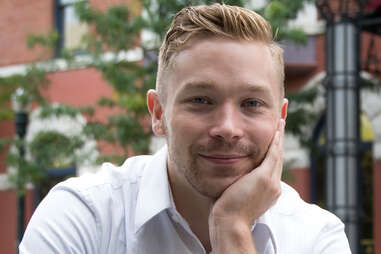 What he does: "I specialize in anxiety, insomnia, and chronic pain. Many people only think of hypnotists as those guys you see on stage making people do funny things. Hypnosis utilizes the power of the mind to do so much more than that. I help clients reframe thoughts and eliminate triggers to overcome debilitating anxiety and sleeplessness. I also teach people how to a actively reduce physical pain, from the chronic pain associated with back injuries to more acute pain like childbirth."
How he got the job: "I heard about the profession nearly 10 years ago when I was listening to a radio show that had a hypnotist on. He said he specialized in quality of life and pain management. At that point I didn't realize that hypnosis was real. I just thought it was a parlor trick. I was incredibly intrigued by his interview, so I went about learning and going to school and became a certified medical hypnotist."
What she does: "The goal of my service is to provide people a safe space to feel respected, accepted, and worthy for exactly who they are. We do this through fully clothed, platonic cuddle sessions for $1 per minute with session times between 15 minutes to five hours. We customize each session to individual needs, so each session is a little different. Some people will try out several positions to find what is best, others will stay in one spot. No matter what though, the goal of the session is to have the person leave feeling respected, accepted, and worthy."
How she got the job: "I have a degree in fitness and I know very well how the body works physiologically. Most of my experience comes from my personal life, though. I grew up in a home where my mom was physically abused, I have dealt with chronic back pain my entire life from eight car accidents, and I learned a lot about how devastating it can be to have a lack of intimacy in your world from my failed marriage. I also have completed hundreds of sessions, and really have developed an amazing intuition for what each person needs."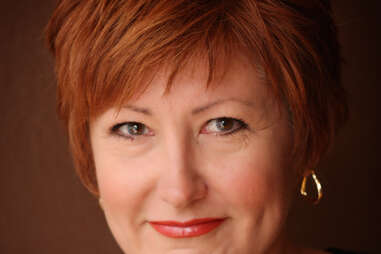 What she does: "I discern other people's energy fields. When traumatic events occur to us, if the emotions are not thoroughly processed, they are repressed into the energy field and become a block. Whatever the event or block, we are forever the age of the occurrence until the energy block is released. It's like a scar on the energy body. This sort of trauma is something you can talk about in therapy for years and, until the energy is released, it never heals. I work with a lot of PTSD -- sexual assault survivors and veterans."
How she got the job: "I studied with a healer and went through a lengthy residency program, after I received the ability to discern other people's energy fields when I healed my own addiction to food."
What she does: "I own Hidden Healer Tours. I take many high-net-worth individuals, celebrities, and sports figures to healers in Indonesia, Ecuador, and Fiji. These healers are very remote and not mainstream. In fact, I am often the first American they have met, and often the healers have not even heard of America. Their methods are also quite interesting and range from using leaves for quick healing to blowing fire or concocting an elixir of tobacco, eggs, and liquor."
How she got the job: "I found myself in this role as a tour guide to these remote healers when I visited Indonesia, and became interested in the subject matter. I had some small, but nagging pains that were instantly healed by a healer."
What she does: "It's psychotherapy rooted in creative arts. There are five different creative approaches -- art therapy, drama therapy, dance movement therapy, music therapy and poetry therapy. A patient comes in for therapy because there's usually a problem or something to cause them stress. Not unlike a talk therapist, we want to figure out what the problem is and take a look at it from a different perspective. We add a creative component to look at the situation from a different way. The patient will make a picture about what's going on, document a dream, act out the situation. It's really powerful because it's a different approach and it always reveals something useful."
How she got the job: "You must be licensed to practice. I had a fine arts background and worked in advertising. Then I got sort of disillusioned with the field and felt like it wasn't really gratifying me, so I went back to school for art therapy so I could give back and serve people. That's a pretty common theme. Not everyone is a career change, but you do have to have a graduate degree to practice professionally."
Sign up here for our daily Thrillist email, and get your fix of the best in food/drink/fun.
Meagan Drillinger is a contributing writer at Thrillist and has eaten kale twice. Follow her on Facebook, Twitter, and Instagram at @drillinjourneys.