It's difficult to remember, but there was a time when you couldn't order a kale Caesar salad at virtually every restaurant, even if you made a special request for it. Whatever you think of food trends, there's no denying that so-called "superfoods" can burst onto the culinary scene and take over every farm-to-table restaurant in your neighborhood -- in a post-coconut-water world, health-conscious consumers are on constant lookout for the next big thing.
Since the new year marks the time to get all "out with the old, in with the new" about everything, it's time to figure out what the next quinoa will be. In some cases, these foods have serious health benefits, while in others it'll just be helpful to know what you're looking at when you go to the place that serves drinks in Mason jars.
Poke
This Hawaiian dish is already pretty popular on the food scene, and it's not going anywhere anytime soon, according to Baum + Whiteman, a food and restaurant consulting company. Who wouldn't want chunks of tuna soaked in a soy & sesame oil marinade and served atop seaweed-seasoned rice? There's also the I Love Poke Festival & Competition, which, though not creatively named, is the only festival/competition for a specific food on this list. So that definitely qualifies this as a trend, and one that will sneak all those heart-healthy omega-3 fatty acids into your diet.

Waste-based cooking
OK, this isn't as gross as it sounds. It essentially means making use of as much food as possible -- a good thing, considering that 70 billion pounds of food go to waste each year. Earlier this year, it was impossible to ignore the buzz about wastED, a community of chefs, farmers, and other members of the foods world who work to cook up something delicious out of unused or "un-coveted" food. It even partnered with Sweetgreen to come up with a leftover-based salad creation so you could have lunch with a side of sustainability. And since articles like Bon Appétit's "Guide to Garbage" gave us the skinny on how to make use of (usually) unwanted items, we suspect that 2016 will bring even more creative ways to consume castoff food.
Savory yogurt
A quick scan of the yogurt section at the store -- or the cornucopia of candy toppings at fro-yo joints -- makes it seem like the creamy stuff caters only to the sweet-toothed. But savory versions are starting to pop up all over the place. Blue Hill, for example, produces and packages yogurt flavors like beet and butternut squash, and at the Chobani store in New York City, you've got five savory "yogurt creations" to choose from. The brand's about to take the trend mainstream with Sriracha mango and chipotle pineapple early in the year, which, though they're still fruit, add some interesting new flavors to the mix. You can also turn any plain, unsweetened Greek yogurt into a savory dish by adding your favorite veggies, hot sauce, or other sauces and spreads, like hummus or pesto.

Algae
Algae's been lurking around in the background for the past couple of years, poised to hit full-blown superfood status. Earlier this year, the Institute of Food Technologists singled out the slimy green stuff as an excellent, heart-healthy source of protein and fiber. If you're already into sushi, you eat algae in the form of seaweed, but you'll probably consume even more of it in the upcoming year, if you know what's good for you. You might even start cooking with the stuff; Thrive algae oil (a tablespoon of which contains the same kind of good fat that you'd get in a whole avocado, by the way) makes it all possible. Bring it on, pond scum.
Black raspberries
Antioxidants! That's all you need to know, move along. Berries in general are chock-full of 'em -- probably why they tend to reach superfood status. But black raspberries in particular seem destined for greatness. Science says they contain three times the amount of antioxidants than red raspberries or their doppelgangers, blackberries (good luck trying to tell those two apart). Black raspberry-everything is upon us. Gird your loins.

Better sports drinks
For a long time, people have been worried about the calories, sugar, and artificial flavors lurking in sodas, but sports drinks curiously got a pass, in spite of the fact that they're really not much better. That's not so much a concern anymore, thanks to performance beverages like Nth Degree's options, which are formulated with low-glycemic carbs instead of high-fructose corn syrup, and don't have artificial dyes or flavors.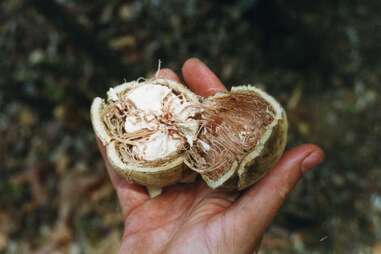 Baobab
Fruit from the baobab tree -- eight of the nine species are native to Madagascar and mainland Africa, so you can just get ahead of the economic backlash that accompanied quinoa's sudden rise in demand -- is rich in vitamin C. You can already get your hands on baobab "superfood chews" and powder, so it's probably only a matter of time before it's an artisanal soda flavor.

Water tapped from any/every kind of tree/fruit
Coconut water kicked things off, then maple water and birch water came onto the scene. What's next? Pine water? Peach tree water? Oh shit, cactus water, nice. In spite of the various health claims these products make, there's not really much backing them up, other than the generally accepted facts that your body needs both hydration and vitamins to survive. There's really no limit to extracting water from things that contain, well, water, so expect this to reach Portlandia levels of absurdity.
Moringa
You may not have heard of it, but this plant's steadily working its way into a health-food store near you. Native to Africa and Asia, it's pretty versatile, and perhaps most important in an ever-warming world, it's drought resistant and can actually purify water (along with an absolute treasure trove of other benefits). You can find it in capsule form, bars, and tea. Safe to say we definitely haven't seen the last of "the miracle tree."
Genetically engineered meat
The FDA deemed it safe to produce, sell, and eat a kind of genetically modified salmon earlier this year. We get the feeling we're going to be hearing a lot more about this in 2016, especially since there are plenty of people who don't support this "Frankenfish" (or "Frankenfoods" in general). Since conventionally produced meat has so many environmental and health drawbacks, genetic engineering may eventually attempt to provide solutions to things like methane-producing cows (i.e., bull farts)... though that uncharted territory is sure to have its own set of drawbacks.
Sign up here for our daily Thrillist email, and get your fix of the best in food/drink/fun.
Alexandra Duron is a freelance writer for Thrillist and thinks poke = perfection. Follow her on Twitter and Instagram at @alexduron.