Their clothes leave nothing to the imagination, they own enough sneakers to open a small shop, and they're constantly hopped up on enough endorphins that it makes you question if a runner's high is better than, you know, actually getting high. They're basically the human versions of an eager golden retriever, minus the humping... or not.
In denial? Here are 30 ways to tell if you're married to this sweaty, spandex-friendly hobby for good.
Your toenails are no longer suited for public appearance
Between blisters, black toenails, and the stench, it's best to keep those babies in hiding.
You scoff at the idea of paying $20 for a movie ticket
But you'll happily pay a $40 race registration fee for a 5K that will take about a quarter of the time it takes to watch a movie.
You don't think food is something you need to enjoy
It's strictly fuel, so you can keep running.
You've started Googling road races in exotic locations you want to visit
Vacations are for the weak -- leaving town is only worth it if you go on a race-cation.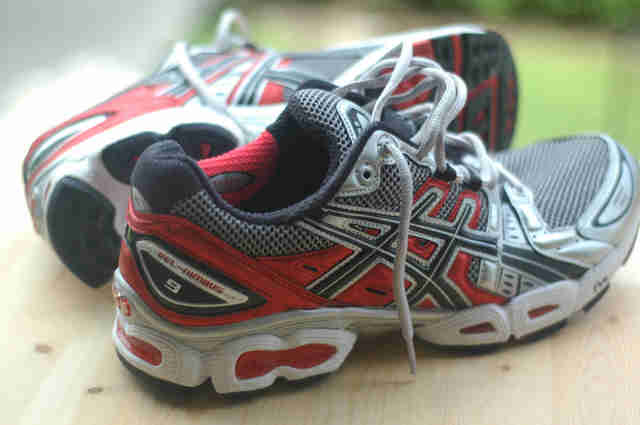 Spending $100 on running shoes doesn't seem like such a steep price anymore
In fact, $100 is your minimum spend for a pair of shoes.
 
You have to do laundry twice as often
And 80% of your load is activewear.
 
After not running for a few days, you get antsy, angry, and even sad
Are you running... or are you running away from your feelings?! [cue dramatic music]
 
You've started to speak more openly about your bowel movements
That's just dead weight you're shedding.
 
Speaking of bowel movements, they happen more frequently than they used to
And you've started to plan your running route on the availability of a Starbucks and its public bathroom.
 
You're hungry for lunch by 11am
Especially after a long 6am run.
You've started to keep deodorant at your desk at work
If you haven't, you should really start.
 
You bought a bulky GPS watch to replace your trendy timepiece
The NSA may be able to track you at all times, but at least you'll know your pace.
 
Your running shorts are the shortest they've ever been
And your activewear is basically skintight. Leave nothing to the imagination.
 
You've greased up your body with Vaseline more than once
Because chafing is real, and dammit, sometimes a petroleum byproduct gets the job done.
 
Showers are now an office requirement when searching for new jobs
No shower, no early-morning or post-work runs, no way.
The frozen peas in your freezer are actually for icing your sore muscles
You haven't eaten frozen peas in YEARS.
 
You've hated yourself during a race
Because masochism is the only sure sign that you're going to feel great once you finish.
 
Chocolate milk is your new favorite drink
Well, it's technically a first runner-up -- second only to beer.
 
You've started to think of distances in terms of how long it would take for you to run that far
"Four miles to the bank? I could run that faster than driving through town!"
 
Your friends don't ask you about your weekend plans
They just ask, "How many miles are you running?"
You've left happy hour early so you could wake up the next morning and run...
... but on those rare times you forgot to leave happy hour early, you've discovered that a run can cure just about any hangover
With "just about" being crucial, depending on how many shots mysteriously appeared at the end of the night.
 
You know that asking a fellow runner, "What was your time?" is a loaded, heated, and emotional question
Proceed with caution.
 
You know the amazing feeling that comes with drinking a post-run shower beer
It's just like college, only with more running.
 
You feel like your age matters
But only because it determines your age group (and competition) in road races.
 
Bodily fluids don't really bother you anymore
Snot rockets and spit balls? Bring 'em on.
You've worn a bib in the last few months
And not the kind that babies wear.
 
You own a stack of medals
Maybe a lot of them are the dreaded "participation" kind, but they still make you feel sort of important.
 
Carbs are your favorite food group now
Yes, you WILL have some bread with that pasta.
 
Your friends and family members call you crazy
But you do it anyway, because you love that can't-nobody-touch-me-now feeling. Oh, and the runner's high is no joke.
Sign up here for our daily Thrillist email, and get your fix of the best in food/drink/fun.
Erin Kelly is a writer, marathoner, and triathlete living in New York City. She has done everything on this list (and isn't ashamed of it). Follow her on Twitter at @erinkellysays.