The Coolest Gyms in the World
Sponsored By
Vitamin Water
Courtesy of New Wave Architecture
Rows of treadmills, stacks of weights, strangely aggressive towel-picker-upper guys… all gyms start to feel the same after awhile, but they can be way more than a means to a more swole end. Case in point: these crazily DIY, luxe, or otherwise amazing testosterone stations. Check the list then check your passport, because some of these muscle factories may require a trip…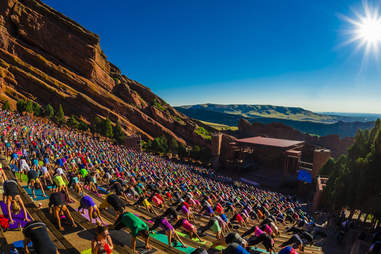 Blaine Harrington III
Red Rocks Amphitheater
Morrison, Colorado
While the Red Rocks Amphitheater moonlights as an open-air concert hall, the venue's day job is hosting up to 350 wannabe fit-sters for a ginormous group workout. With stadium seating (69 rows of seats) for lots and lots of stairclimbs, individuals who join the challenge are tested through eight weeks of the intense program. Or just show up for a solo workout, but bring a buddy...and your iPhone for dope Instagram pics.
Ash Clarke/<a href="http://themostalive.com/travel-fitness-the-best-gym-in-the-world" rel="nofollow" target="_blank">TheMostAlive.com</a>
Hut Gym
Dumaguete, Philippines
We don't care how good looking the hardbodies at your local boxing gym might be -- they don't hold a candle to the picturesque view you'll overlook at this beachside fitness hut in the Philippines. While it might be an urban legend -- because we are suspicious of anything that looks this good -- if it is real, we'd like a one-way plane ticket, please. Constructed from local materials like Palm timber and recycled metal piping, this outdoor gym is equipped with bumper weights in a makeshift squat machine, kettlebells, chin up bars and PVC pipes. Bonus: As you work out, you can stare down Apo Island to take your mind off the excruciating practice that is exercise.
Courtesy of New Deal Design
NFC Court
San Francisco, California
Your fitness regime should have no limits, so it makes sense to hit up a gym with no walls where you can really go all out -- like San Francisco's Fitness Court. Essentially a giant playground for fitness enthusiasts, the court is a free-to-use workout base overlooking the Golden Gate Bridge. The platform is outfitted with a 32' x 35' shock-resistant sports floor, seven exercise stations, and over 30 pieces of equipment, making it ideal for solo or group sweat sessions. The best part? No gym memberships are required -- just show up and start being weirdly over sweaty.
Daici Ano/Courtesy of nendo
Illohia Omotesando Fitness Gym
Tokyo, Japan
If you're one of those people who get curiouser and curiouser about the latest fitness fads, you'll love the idea of transcending this Alice In Wonderland-inspired climbing wall at Illoiha Omotesando fitness club in Tokyo. Designed by one of Japan's hottest designers, the climbing wall has individuals scale interior design elements like picture frames, mirrors, deer heads, bird cages and flower vases rather than traditional boulders. The part art installation, part climbing wall is designed to mimic a combination of the rugged outdoor terrain and Tokyo's financial district, but all we know is this: it's trippy and we want to try it.
Dmytro Kutz/Getty Images
Hydropark Outdoor Gym
Kiev, Ukraine
You'll never think of the term "No-Frills Fitness" the same way again after visiting this Hydropark Outdoor Gym in Dniepr, Ukraine. The seriously hardcore machines are built from old scrap metal collected from cars and industrial gear -- a far cry from Equinox's latest equipment, but they'll make you look and feel like a badass. Another perk? From muscley gym-goers to the surrounding scenery, there's plenty of things to feast your eyes on as you workout.
Hannah Russell/Courtesy of Upper Limits
Upper Limits
Bloomington, Illinois
If you've ever wanted to combine your appreciation for modern day farming with your love of towering high above things, then Upper Limits climbing gym in Bloomington, Illinois, is the place to go. One of the largest climbing facilities in the world with over 20,000-square-feet of climbing space, you can choose between navigating your way up a 65-foot silo, an indoor area of overhanging terrain, a 110-foot outdoor wall, or outdoor boulders that will make you feel as rugged as Bear Grylls.
Courtesy of Green Micro Gym
Eco Power Fitness
Portland, Oregon
Eco Power Fitness's Exercise machines are converted into power generators and connected to the grid. So as a gym member, you won't just get a good workout -- you'll be helping power the building, and maybe even the community. With that kind of motivation, you'll walk away from every workout feeling (and smelling) like a green God.
Courtesy of Simone Micheli Architect
Atomic Spa
Milan, Italy
They say your body is a temple, and you can treat it as such at the Boscolo Milano Spa in Milan, Italy. An ideal place to relax after an intense workout or simply an intense life, your old college gym's "fancy" sauna has nothing on this wellness mecca. After an invigorating swim in the pool, you'll have the opportunity to zone out in the sauna, feast your eyes on a tricked-out waterfall, bare it all in the Turkish Bath, find your zen in the floatation tank, or primp yourself with an original wellness treatment (think massages, facials, etc). Warning: you won't want to return to real life after this.
Courtesy of New Wave Architecture
Rock Climbing Gym
Polur, Iran
Glaciers may have a bad rap right now (they're melting, they sank the Titanic...you know), but this insanely large glacier-like building is changing the game for the monumental natural structures once and for all. Designed by New Wave Architecture, this monstrosity is actually a 360-degree climbing gym. Featuring geometric panels outfitted with hand-holds for climbing, the exterior is meant to be climbed on just as much as the interior. And for those who day dream of summiting real mountains, climbers can look out to the rocky lands of Mazandaran in the distance for inspiration.