The Least Stressful High-Paying Jobs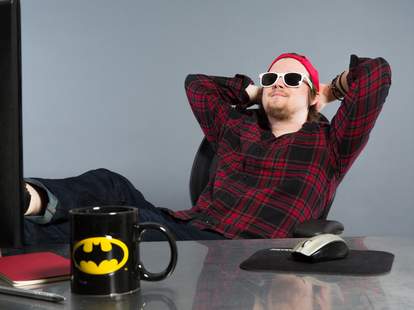 It's good news for most of us schlubs that there are brave researchers out there trying to find the 21st century's Holy Grail: a lucrative job that doesn't drive those who do it to complete mental breakdowns. Laurence Shatkin, Ph.D, a career information expert, looked at salaries and stress levels of 767 jobs to pinpoint gigs that offered high pay and low stress. He detailed them in his 2008 book, and has continued to update the information.
What makes a gig low on the stress scale? It varies according to the individual.
"The point here is that workday stress is a highly idiosyncratic matter," Shatkin told us. "You might find public speaking to be an extremely stressful part of a job, while I might find time pressure hard to bear." That said, if you want to escape a nerve-wracking job and still make a nice chunk of change, you could try making a switch to one of these cushy gigs.
Shutterstock
Geographer
You'll need a master's degree to become a geographer in most cases, but you'll also enjoy an average salary of $75,610, according to the
Bureau of Labor Statistics
. This job ranked a 58 on Shatkin's 0-to-100 stress scale; to give you an idea of where careers at both extremes fall, animal breeders rank a 49 (easy!) and air traffic controllers score a 91 (tough!). Of course, to be a geographer you have to really like maps, which may be a barrier to entry for a lot of folks.
Law teacher
As the old saying goes, those who can't lawyer -- but still want to make tons of money -- teach lawyers. Law teachers make an average salary of $126,270 a year and spend more time with students instead of judges. The job ranked a 62.8 on Shatkin's stress scale.
Statistician
This career only had a stress rating of 64 on Shatkin's scale, which makes me question his sanity. Hey, if you could get through a semester of statistics without winding up in a padded room, this could be your job -- especially because statisticians make $84,010 a year on average.
Materials scientist
According to Shatkin's research, people ranked this a 53 on the scale. The average salary is $94,350, and you'll make it if you're interested in researching how substances interact with each other to improve products. Substances, materials, products, interactions: it all sounds simple enough.

Art director
Being an art director involves working with other creative folks on visual style and images in magazines, newspapers, product packaging, and entertainment productions. Art directors make an average of $97,850 a year, and score a comfy 69 on the stress scale. Get out there and direct some art!

Optometrist
Your eye doctor makes an average of $113,010 a year, and his/her job ranked a 70.3 on the stress scale. While you'll need a college education and state license to practice, how stressful can it be? Hand out some glasses and call it a day, right?
Orthodontist
Here's another job on the list that may not be super stressful, but if your patients are anything like I was when I had braces at 14 and Invisalign at 35, they may not make your day. Complete a bachelor's degree, attend dental school for four years, and take a residency, however, and you could be turning crooked smiles straight. Especially your own, if you're hauling in more than $200k each year.

Computer hardware engineer
With just a bachelor's degree, computer hardware engineers research, design, develop, or test computer or computer-related equipment. If you like working solo for the most part, and have that kind of technical know-how, you could earn an average of $106,930 a year.

Political scientist
The average political scientist made $106,930 a year in 2014 and rated the job a 60.8 on Shatkin's scale. These specialists study political systems without having to engage in any actual politics, so they must be fairly smart.
Audiologist
Helping people with hearing devices and testing their hearing may sound noisy, but most offices in this field are relatively quiet and pretty low stress (obviously). Audiologists also make a median salary of $69,720. Expect to work with an older population -- and if that stresses you out, perhaps consider another career.
Now all you have to do is quit your current job, invest time and money in learning a new trade, and you'll be on your way to a stress-free life of luxury!
Sign up here for our daily Thrillist email, and get your fix of the best in food/drink/fun.
Kristen Fischer is a freelance writer from NJ who thinks her job is the least or most stressful on any given day. Follow her at @kristenfischer.