This Map Shows the Most Obese States in America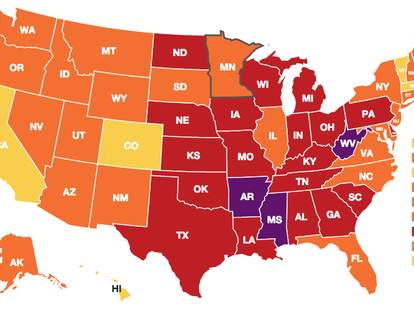 Lets face it: Ballooning waistlines are practically as American as apple pie and bacon cheeseburgers (hmm), and well, the problem continues to show, according to the new "State of Obesity" report, which includes a map (shown in full below) detailing the most recent obesity rates in all 50 states.
The annual report suggests the nation's weight problem remained high in 2014, and actually worsened in a handful of states, with some 78 million Americans now considered obese. While obesity rates differ in various regions, new data shows the highest levels were unsurprisingly found in the South and the Midwest. In fact, obesity rates now exceed 35% in three states: Arkansas (35.9%), Mississippi (35.5%), and West Virginia (35.7%).
How did your state weigh in? The map shows the adult obesity rates per state in 2014, and an interactive version (with additional depressing details) is available on the report's website. 
As shown by the map, 45 states have obesity rates over 25%, 22 states have rates higher than 30%, and every single state in the union has an obesity rate above 20%. Arkansas has the highest rate of obesity at a staggering 35.9% while Colorado has the lowest rate at 21.3%. The five states that saw increases in the last year were Kansas, Minnesota, New Mexico, Ohio, and Utah, according to the report.
Along with statistics about states, the report also found that obesity rates vary by age and race/ethnicity. Here are a few of the key findings:
Obesity rates differed by race, with 47.8% of Blacks, 42.5% of Latinos, and 32.6% of Whites qualifying as obese.
Rates of obesity are at or above 40% for Blacks in 14 states.
Obesity among middle-age adults is 26% higher than among younger adults.
More than 6% of adults are considered severely obese, a 125% increase over the past two decades.
Worse yet, about 5% of children are considered as severely obese between ages 6 to 11.
As you may have assumed, obesity puts millions of Americans at a higher risk of major medical issues like cancer, heart disease, and diabetes, according to the Trust for America's Health and the Robert Wood Johnson Foundation, the organizations behind the report.
Here's a kicker from the report: The average American is more than 24 pounds heavier today than in 1960. Clearly, not everything gets better with age.
Sign up here for our daily Thrillist email, and get your fix of the best in food/drink/fun.
Tony Merevick is Cities News Editor at Thrillist and is surprised that his home state, Illinois, faired so well. Send news tips to news@thrillist.com and follow him on Twitter @tonymerevick.