Paid Content For
Vitamin Water
Here's What Happens When You Try 7 of the Craziest Workouts You Can Find
Paid Content For
Vitamin Water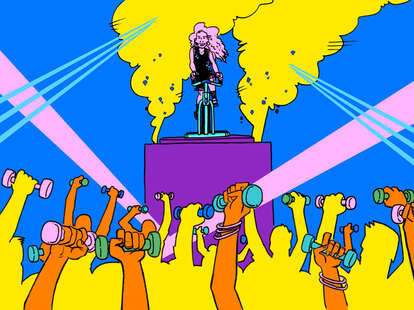 Fitness gurus throughout the country come up with some wacky ways to chisel your body from the cheese puff it wants to be into the Oscar trophy you know it can be. And to show you some the craziest classes and workouts around, Thrillist tasked me with seeking out the most bizarre classes available in my hometown of NYC -- and then try them. So that's just what I did.
Before you dive into the wild world of sweaty butts and strobe lights, here's what you need to know from someone who suffered, sabered, and sweated, just for you.

1.Have A Rave On A Bike At CYC
The pitch: "The renowned workout incorporates calorie burning endurance intervals and weighted sectors inspired by more than 20 different sports movements from boxing, rowing, volleyball and more. Each unique ride and motivating playlist are designed to get you cyc'd!"
The workout: I chose to try this "rave party on a stationary bike" at a 6am class, thinking it would be an invigorating way to start the day (plus, they had a location conveniently close to my apartment). But when my alarm went off at 5:30am, all I could think of was regret. Upon arrival, I was impressed with the studio, which was designed to look like a Miami nightclub. It's dimly lit, with the promise of flashy lights and pulsating music to come. As class got started, we cycled through a variety of thigh-busting intervals, climbs, and jumps, which felt really no different from your average spin class. However, while we went through the typical cycling motions, our instructor -- or the DJ or MC or whatever -- was the busiest guy in the room: In addition to controlling the playlist, he's was also in charge of making studio lights mimic an EDM concert. This involved dismounting his bike a lot, which felt kind of distracting/annoying, since my legs felt like they had cinder blocks attached to them. My jealousy of his frequent dismounts only increased when we started the dumbbell portion of class, because, ow, my arms!
My take: I won't deny that the workout portion of this class is tough. But nothing -- and I mean nothing -- could mentally prepare me for the, "Woo"-ing the instructor expected of us before 7am. My suggestion for others interested in letting loose atop a stationary bike? Go after 5pm.
The pitch: "We have experienced dancers, martial artists, and cosplayers that know a thing or two about saber choreography, and we offer classes to make you look as good as we do!"
The workout: A class where experts and newbies alike meet to go over the basics of lightsaber stage combat fighting ("stage combat" means you don't actually hurt anyone, it's all an elaborate act). Yes, forreals. I brought my boyfriend, Kevin, for both moral and physical support (also because he had the nerd cred to cover my lack of Wookie knowledge).
We joined a group with a completely unsurprising 8:2 male-to-female ratio in an open, high-ceilinged room. After a brief intro from our instructor, whose demeanor I can only compare to Tobias Bluth, the two hour class began. First, we went over the basics: footwork, dueling, and lunges (yes, those lunges). This is when I discovered that holding a lightsaber -- or the long, green plastic stick I picked from the communal weapon pile -- is hard. After basics, we split into pairs to practice fighting and corresponding defense mechanisms. I was partnered up with a Kevin -- weirdly, not my Kevin -- who was perfectly nice, but too timid to actually fight me while I poked him relentlessly in the chest. From there, the class split: beginners (ie, me) continued fine-tuning their skills in a separate room, while the more experienced fighters stayed behind to work on their latest choreography. In this portion of class I was actually able to partner up with the Kevin who wasn't afraid to fight me back...but turns out, we both sucked at remembering the complicated routines.
With 10 minutes remaining, the group converged again. We returned to the original room -- which now reeked of body odor and old sweatpants -- to watch pairs showcase the choreography they'd worked on during class. Class ended in a ceremonious circle. The lights were turned off, and there was chanting I didn't participate in because I don't speak Jedi.
My take: You don't need to be a Star Wars fan to get into this method acting trend. However, while exercise is definitely a factor in class, it's only secondary to mastering your Jedi technique. Maybe the force just wasn't with me.

The pitch: "While serving a sentence in his 9'x6′ prison cell, Coss [Marte] lost 70+ lbs. in just six months. From that experience, Coss refined a unique fitness program combining fun cardiovascular, aerobic, and running exercises."
The workout: I didn't contemplate the possibility the workout was actually created in prison (I apparently didn't read far enough into the company's website). I just showed up to class, following an athletic-looking girl into to the basement of an insignificant-looking building. As I took in the studio's "mug shot wall" where members get their photo taken with placards, and the barred door to the barefoot or sock-only workout area, it all started to make a scary amount of sense.
Before I had time to reassess my life choices, I was distracted by instructor Ray Acousta. It was "leg day," he announced, and there was only one rule: The class had an "active rest" policy. If you stopped moving at any point before the 60 minutes were up, you had to drop and give 10 burpees. He then revealed his favorite type of active rest: salsa dancing. Class began, invoking a series of bodyweight and resistance exercises like wall-sits, squat jumps, bridges, burpees, and step-ups onto benches. At first I balked at Acousta's request for us to dance as I marched in place during our "rest" periods. But later, after my adrenaline spiked and the exhaustion began setting in, I honored his requests with an awkward Irish jig that I'm still having flashbacks about. The smile on Acoutsa's face was worth it, though, because it's not everyday you impress a personal trainer... even if it's with a rendition of River Dance.
My take: I left the class sweaty, a little sore, and 80 percent more excited for the day than I had been when I got there. Participating in training inspired by a convicted felon definitely helps with the motivation.

The pitch: "You'll be singing, grooving and moving, while getting some serious sweat on. It will be the most fun you have on a bike, so leave your inhibitions at home, and get ready to belt out some tunes."
The workout: Like most sane people, the only time I ever actually sing at karaoke is after 1am. But one Friday night, I left work at the decent hour of 6pm, armed with only a bottle of water, and headed to Cycle Karaoke at Crunch Gym with the intentions of sitting through a full hour of karaoke -- on a stationary bike. It was two days before Valentine's Day, and the ride theme was "Badass Breakups." I showed up -- solo, I may add -- and hopped on my bike in the front row. The class is set up like a normal cycling studio, but the room's monitor displays lyrics on screen -- just as it would at your typical karaoke joint. The class instructor dons a headset for singing along, and walks around the room with a portable microphone so everyone's voice can be heard. During the first song -- Backstreet Boy's "Quit Playin' Games With My Heart" -- I had stage fright, barely whispering into the mic when it came by. But by Beyonce's "Irreplaceable," I was shouting out the words with the best of 'em. Unfortunately, this was also when all of our hill climbs, sprints, and tempo rides were catching up with me, and I could barely breathe, let alone sing. Although the terrible combination of trying to sing while breathless made me sound like a dying animal, it was oddly comforting knowing I wasn't the only one in the room suffering.
My take: While I felt like an idiot explaining the idea, "It's like, karaoke on a spin bike" to my coworkers just an hour earlier, by the end of class I felt like I had just undergone the most intense, wonderful therapy session I'd ever had. Maybe that's because I've never been to therapy, but either way -- I recommend going. Bring your friends. And if you have a song request, show up 5 to 10 minutes early and the instructor will try to make it happen.
5. Party On A Trampoline At Bari
The pitch: "Our dynamic sequences work your body from targeted angles to maximize fat burn and produce specific results. Not your average toning method -- expect to spike your heart rate, make it rain (sweat) and see the best results ever."
The workout: Trampolines remind me of two things: childhood, and jazzercise videos. So you can imagine why I was stoked about trying The Bari Studio, which proudly portrays pictures of super-fit girls jumping on trampolines on their website. What I found out in class, though, is that working out on top of a trampoline is hard. Your balance is misaligned, your coordination is off, and it is really hard to do anything when you're flying through the air.
Unlike popular trampoline gyms, Bari also incorporates dance, resistance band training, and bootcamp basics for a hybrid workout that kept me on my toes... or at least it would have if I were not, you know, bouncing all the damn time. Although instructors required I take an introductory "barione" class before advancing to any of the more complicated classes, I spent the first half of of the workout struggling to learn the instructor's complicated maneuvers, and the second half trying to keep up. But falling out of sync with my classmates didn't stop me from having fun -- until the abs portion of class completely exhausted all of my energy.
My take: The good news is, the mentally stimulating aspect of the class certainly distracted me from the grueling physicality (at least, until the soreness set in the next day). And as I left, my instructor reminded me that no matter what my firstcomer experience was like, I could find comfort in the fact that it only takes a few classes to no longer feel like Left Shark.

The pitch: "Verboten brings together mind, body and music with WILLKOMMEN, a weekly yoga class series accompanied by the soothing deep house music of DJs George Faya and Tasha Blank."
The workout: If you've been intrigued by those early morning wellness clubbing events but would rather stick a fork in your eye than wake up at 5am to rage, here's an alternative, after hours event for you: Willkommen Deep House Yoga. The class combines the workout you'd get at a traditional vinyasa class with the ambiance of a nightclub…because it's actually held inside a night club.
Never having stepped foot inside a venue as "cool" as Verboten (the 10,000-square-foot nightspot in the heart of Brooklyn that hosts the class), I was a little intimidated upon arrival. But I acted as if I knew what I was doing and joined the rest of class-goers in spreading my mat on the floor and taking in the ambiance of the lights, the DJ stage, and the video wall. Featuring a live DJ spinning trance-y beats, the class started off simply enough. We cycled through a series of standard poses and flows -- and with the pulsating music, I didn't need to worry about letting out soft grunts or sighs and really getting into my practice. It was also a relief not to hear any weird noises from anyone else (like heavy breathing and relaxation farts, which are usually a non optional part of yoga).
Then it got weird. After going through the familiar poses, our hybrid DJ/instructor asked us to rise off our mats, and let our bodies "go" to the beat of the music. I did. Maybe true yogis would love this carefree freestyle, but I felt self-conscious and funny waving my arms around and bobbing rhythmically to the beat. After the first 30 seconds, though, I got into it and got down uncharacteristically enthusiastically. When it was time to return to the mat, I was a little sad.
My take: I can't promise you won't feel a little weird, but I can promise you'll leave class feeling looser, edgier, and more carefree than you did when you walked in. And you probably won't hear anyone fart.

The pitch: "The Extreme Firefighters' Workout will take you through physical drills that simulate activities performed by firemen like handling hoses, swinging axes, climbing stairs, racing up a pole and carrying victims to safety."
The workout: I've always wondered how useful I'd be in a code red emergency, and now, I know the answer: moderately to slightly helpful. I tested my life-saving skills at Crunch's X-Treme Firefighters Workout. Definitely not for the faint of heart -- or the weak-armed -- this class is designed by real firemen to simulate the physical challenges they face every day on duty. Full disclosure: the biggest physical challenge I have at work is deciding whether I should take the elevator or the stairs.
Upon arrival, I was immediately concerned about the 70-lb human-sized dummy on the floor. Would I have to carry that? Spoiler alert: Yes, yes I did. After a brief intro about what we'd be doing -- visiting six different fitness stations along a carefully crafted circuit, twice -- I partnered up with a ponytailed girl named Jess and we got started. Each station's exercise and/or task represented a scenario that might happen during a fire rescue, like performing ax swings using a medicine ball on a rope, practicing our fireman's carry with the aforementioned dummy, or ascending a fireman's pole. It seemed like a great way to mix up my fitness regime while figuring out if firefighting might be a good fit for a second career... turns out it's not.
My take: I left the 45-minute class with some serious swamp-ass, a funny feeling in my arms (oncoming soreness, I gathered), and a newfound appreciation for firefighters.