American school lunches have historically been the butt of jokes, and for good reason. We've got a childhood obesity epidemic spiraling out of control, and it's easy to blame the garbage our schools feed the children, rather than, say, a complex relationship between the junk-food industry, inactivity levels, and lack of nutrition education.
If only the school lunches were better, our kids wouldn't be so fat! And Jamie Oliver wouldn't be reduced to tears with such alarming frequency.
Don't cry, Jamie! The only thing to do was to go back to school (a New York City public school, no less!) and eat the stuff ourselves. For science. For the Internet. For YOU.
Feeding the masses
New York City public schools serve between 860,000 and a million meals to kids every day, according to Eric Goldstein, the chief executive of the Office of School Support Services. But we wanted to know if they could feed two GROWN-ASS MEN.
Yes, of course they could. Didn't you just see the thing about how many meals the school system serves? Two guys aren't going to affect that at all!
Cole, our photographer on the shoot, usually gets to take pictures of (and eat) ridiculous burgers and other goodies, so when I asked if he was excited to go eat vegetarian lunch at a New York City public school, he cheerfully informed me that, hey, he was required to feign excitement for the purposes of retaining his job.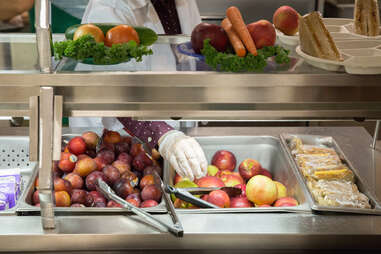 Going vegetarian in Flushing
Mr. Goldstein had invited us to lunch at a school that's taken a radical approach to the problem of how to feed kids nutritious food they'll actually eat. For the past three years, P.S. 244 in Flushing, Queens has been completely vegetarian. That means no meat in any of the school-provided meals.
Won't our kids turn Commie if we start encouraging them to eat vegetables and stuff?
But... but... what about those appetizing chicken nuggets put forth as the standard American swill we're feeding the next generation? Conventional wisdom says kids love that kind of 28-ingredient frozen deliciousness, and if you want them to eat at all, you better feed them tasty, chemical-filled treats. Won't our kids turn Commie if we start encouraging them to eat vegetables and stuff?
Well, P.S. 244 has been vegetarian for three years, and... all the kids have survived! It's impossible to say what kind of political beliefs they'll develop, but so far their test scores have blown their peers' out of the water, with P.S. 244 being named one of 335 Blue Ribbon Schools nationwide.
Principal Bob Groff, who's run the school since its inception back in 2008, acknowledges that it's tough to tie nutrition directly to performance, but, "What we can say is that over the last three years, our attendance rate has grown each year... and what we've observed is [the students] don't have that lag in energy after eating a heavy lunch or a sugary snack. We see a few different aspects we believe are related to this lunch."
New York City, beating the school-lunch curve
Call us homers, but it turns out that school lunch in the nation's largest city has already taken massive steps to separate itself from the pack. For starters, every single school has a salad bar. Cole, our venerable photographer, described the kale as "better than what you'd get at Trader Joe's," and there wasn't even a hint of a line!
That's right:

Every school has its own salad bar
"I'm really exceptionally proud of the salad bars," Mr. Goldstein said. "Because that was a real struggle, and we were able to come through on such a big scale. To start salad when you're in kindergarten and have it carry through to when you're in 12th grade, it just becomes part of your life."
Lining up and getting served
Yes, but what about the food? Right, the food. Students always have a peanut butter sandwich and cheese sandwich option, but we wanted to go whole hog (ha!) and try what was on the menu.
Today it was the Superhero Wrap -- so named to appeal to children/adults who continue to prefer fantasy to real life -- a cheese, corn, and spinach combo in a tortilla. It came with baked sweet potato fries, a plum (apples were also available), and a kale salad we assembled ourselves, with carrots, zucchini, broccoli, and an Asian sesame dressing.
Grading school lunch
Overall, the meal was... pretty decent! If we're grading on a school-lunch curve, it's definitely an A meal, miles away from the pizza-and-a-cookie special that fueled me, somehow, through high school and into college. For Cole, it was healthier than he eats on a normal day, so maybe we need to start serving school lunch in the office.
The salad was the most impressive part of the meal, which sounds like a cop out, but think about how difficult it is to get fresh salad into every single New York City public school. While the Superhero Wrap wasn't anything to write home about, it delivered on tasting like real, fresh food, rather than a reheated ball of industrial sludge, which is the way I remember things at school.
And, most important, each of us was sated to the point that, upon leaving the school, we didn't stop for dim sum (though we probably should have).
Will The Children still get pizza?
Don't worry, we will still feed The Children pizza, Principal Groff told us reassuringly. Whew. How would The Children manage without their pizza?
Pizza probably won't leave school lunches for a long time. While P.S. 244 is taking huge steps in the right direction, it's still the exception, and wholesale, nationwide change is typically pretty slow.
Mr. Groff knows it won't be easy, but thinks it's possible: "We live in a society that has developed a sense of 'what is a meal' that is probably different from... a lot of other countries. How do we change our mindsets? What we know is that vegetables are a larger and larger part of that... We think that if we start with the kids, then as they grow, they learn more about it, and they bring it back to their parents."
Sign up here for our daily Thrillist email, and get your fix of the best in food/drink/fun.
Anthony Schneck is the health editor for Thrillist. He'll be trying to score school lunches for the rest of the year. Follow him: @AnthonySchneck.