Adult Coloring Books Turned Me Into a Child
It's mid-April and I've just mailed checks to various local, state, and federal tax collection agencies. In the past, this is where I would lay face down on the floor and weep, crushed by the weight of financial obligation to my family, home, and country.
But there will be no tears this year. Because I am about to color.
According to the millions of adults who have taken up this childish pursuit, sitting down with colored pencils and a book of line drawings can turn a high-strung neurotic into a yoga frog statue. Coloring, they say, is involved enough to occupy your mind but not so complex to overburden it. The benefits come less from putting pencil to paper though than from the focus it requires. This is that thing they call "mindfulness" -- the Buddha-approved concept of living in the moment that's all the rage with people who buy food from bulk bins.
As a bona fide, fingernail-eating bundle of nerves, my plan is to test those claims with The Mindfulness Coloring Book, which lays open in front of me on the kitchen table. But first I've got to pick a page, which is harder than it sounds. There are a lot. I also need to pick a color to start with. Oh, and I should pick some music. Something thematic seems right. I go with Living Colour.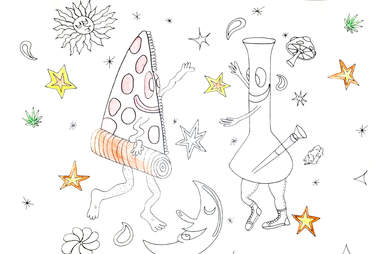 Adam K Raymond
Time to color! But not before checking basketball scores on my phone and queuing up some Deep Purple. No wait, Al Green. No wait, Whitesnake. No wait, Blackstreet. OK, so focusing isn't my strong suit. As neuroscientist Daniel J. Levitin has written, some people have a hard time concentrating on a single act, instead preferring to "reap empty rewards from completing a thousand little sugar-coated tasks." Like looking to see if I missed any good tweets. (I didn't.)
Finally, I reach into my $20 case of triangular colored pencils (no serious colorist uses that kid shit) and pluck a pencil at random (I read about that strategy here). I begin with the first page in The Mindfulness Coloring Book, a collage of overlapping flowers and leaves that spill off the pages. Carefully, I color a petal brown, and then berate myself for the decision. Instead of bringing the flower to life, I have condemned it to death.
After 30 minutes I pull back to survey the scene. There are… three flowers colored in. Holy shit that took a long time. The design is so detailed, the flowers so intricately drawn, that filling in the white space is annoyingly tedious. I quit. After my first attempt at coloring, I conclude that I still prefer the relaxing power of FIFA 15 and four bowls of cereal.
***
The current adult coloring trend began four years ago when French publisher Hachette Pratique began selling Art-thérapie: 100 Coloriages Anti-Stress. It was a sensation, and the publisher banged out a whole series of Art-thérapie books. In 2013, Scottish illustrator Johanna Basford collected her drawings into Secret Garden: An Inky Treasure Hunt and Colouring Book and adult coloring was officially a thing.
"When Secret Garden hit No.1 on Amazon and the Guardian UK did a feature on [Basford]," adult coloring books became a "phenomenon," says Steve Mockus, executive editor at Chronicle Books. He saw publishers quickly snatch up French titles and republish them in America, "the quickest route as they were already done," he says. By the end of 2015 Nielsen BookScan estimates that 2,000 coloring books were released in the previous 12 months, nearly seven times as many as in 2014.
Americans went nuts for them, buying 12 million adult coloring books in 2015 according to Nielsen, up from a million in 2014. At any given moment, Amazon's top-20 list has at least one adult coloring book on it and big-box retailers like Walmart, Target, and Michaels have all increased their coloring book offerings. This trend, which has inspired meet-ups all around the country, has now progressed to the point of self-mockery. Some are even warning of a global coloredpencil shortage.
The conventional wisdom behind this boom holds that Americans are so stressed that they're looking for a way -- any way -- to decompress. But, as I discovered later, after having spent a month with my coloring books, that is not the only explanation.
Jason Hoffman/Thrillist
For my next attempt at coloring, I turn to Basford, the undisputed fairy queen of adult coloring books. Four years after Secret Garden, she's released two more books and sold close to 20 million copies. If they've worked for so many others nervous wrecks, I figure, maybe they'll work me.
I sit down with Secret Garden, this time with no distractions and a better idea of what I'm doing. After 10 minutes or so of adding oranges and pinks to a flowery mandala, I enter a zone, focusing on the act of coloring more than the objects themselves.
"It reminds me of yoga," my wife says later after trying a page in Basford's book. "You're too focused to think about anything else." That was briefly true for me. But the instant I think,""Oh, I'm not thinking about anything else," I start thinking about something else. And that's when my mind begins to wander to anything else. Like food. Ever notice how much a mandala looks like a cinnamon roll? Speaking of breakfast, am I out of cereal? Do they make cinnamon roll-flavored cereal? Google, do they? Of course they do.
This isn't working. So for my next session I follow the lead of those who color while watching a mindless sitcom on Netflix or listening to a podcast. The idea is to use coloring as a second screen without the screen. "If the front of my mind is occupied by the show, and the back is focused on picking colors and staying in the lines, there's not room for much else. It's a sort of mindfulness that's more like mind-fullness," Julie Beck wrote in The Atlantic last year.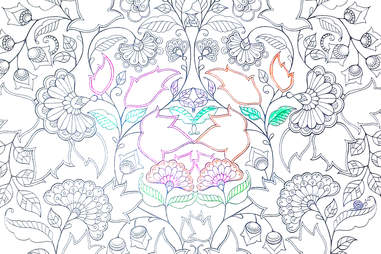 Adam K Raymond
Given my attention span, this seems promising. I sit down in front of a baseball game with Mike Medaglia's One Year Wiser -- a coloring book with 52 "illustrated meditations." As I color, I look up every 30 seconds or so to watch a pitch. It's a day game between the A's and Angels. The Coliseum is maybe a quarter full. I color a few words blue, a few circles green, a few arches orange. Thirty minutes go by and I've covered 10% of the page. Medaglia tells me this is one of the charms of coloring. "You can't rush or it won't look good, so the only way to color in these areas is to sit and work on it one bit at a time. The patience of this is calming and helps our minds naturally come back to the present," he says.
But baseball is too distracting. I need to try again watching something with lower stakes than an MLB game in April. Turns out, there's a Democratic primary debate on the next night. Perfect. For that I choose a book with bigger shapes. I'd like to actually see some progress. Patterns of the Universe, based more on math than nature, fits the bill, and it turns out the debate is the perfect accompaniment. In the past, I've inevitably found myself bored watching Hillary and Bernie prattle on. I'd start dicking around on my phone and completely lose interest. But this time I have something to keep my hands busy without distracting me from what the candidates are actually saying.
For the first time, coloring did something for me. It was a way to pay attention without fully paying attention, which is about what the ninth debate of an interminable primary season deserves. As a result, I am now a more informed voter, better prepared to participate in the sacred duty incumbent upon all citizens of a democracy. Maybe I'll watch the next debate while playing with boats in the tub.
Jason Hoffman/Thrillist
A few days pass without coloring. The debate experiment worked but not well enough that I'm excited to do it again. So I turn to the one person in my life whose love of the activity is pure and uninfluenced by trend -- my 2-year-old daughter.
We sit down at the kitchen table, a page of simply drawn ice cream cones from Paris Coloring Book in front of her and a mind-numbingly detailed drawing of Singapore from Steve McDonald's Fantastic Cities in front of me. I'm not worried about painstakingly filling in those tiny treetops and twisting building facades though, because this time I'm using crayons.
It's remarkable how quickly a crayon fills the page compared to a colored pencil. With their blunt points, it's impossible to stay in the lines. Meanwhile, the kid in pig pajamas across from me is scribbling away with little regard for the images on the page. One cone and much of the area around it is pink. Others are purple, green, and orange, both cone and cream. She's not much for verisimilitude. Nor is she patient. With the ice cream page not even close to finished, she moves on to a drawing of a cafe.
Meanwhile, I'm watching and learning. "Color yours now, daddy," she says and hands me a dulled orange Crayola that says "Mango Tango."
I oblige her, turning skyscrapers Mango Tango and Goldenrod. Ever see a Jazzberry Jam cathedral? I have. I stall for a moment, about halfway done with the page, then flip through the book and start in on another. That's when it hits me -- I need to loosen up. The whole point of adult coloring is to forget your worries, but I'm constantly caught up in how the picture looks, how long it's taking, and all the things I'd rather be doing. The kid's got it figured out.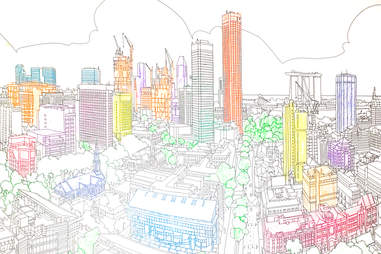 Adam K Raymond
The next night, my wife and I take her and our 8-month-old out to dinner. I bring along a coloring book, anticipating, correctly, that the hostess wouldn't offer me a pack of cheap of crayons and a paper menu. As I color in a page of numbers and letters in a book of Alexander Girard designs, I get why kids like this. It keeps you from eating your arm while you're waiting. What I don't get is why the waitress doesn't seem to notice a grown man coloring while his wife wrangles two kids. I take a sip of my milk and get back to it.
The next morning I tote a coloring book along with me to the mechanic so I can stay busy in the waiting room. If it works on my daughter at the doctor, maybe it'll work for me here. Sitting on a musty couch, I color in a page from The Stoner's Coloring Book, a calculated choice on my part. I figure I'm less likely to get a swirly by one of the burly dudes working here if I'm coloring an image of a bong hugging a piece of pizza rather than a bunch of flowers. Turns out, no one cares either way.
I like it though. Typically, I flick through Twitter in idle moments like this and anything that keeps me from that is worthwhile. The absence of a clock at the top of the coloring page is helpful too. It means I'm less aware of how long the goddamn mechanic is taking to find that goddamn oil leak.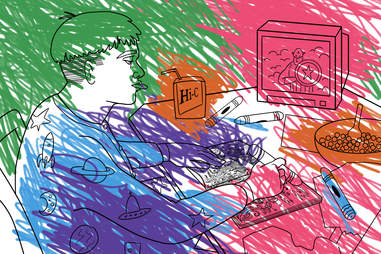 Jason Hoffman/Thrillist
Critics deride adult coloring as a leading example of the "Peter Pan market," a cultural movement in which grown people of all ages trample one another in their desire to return to the warmth and safety of the womb. Some people read YA literature, others pay hundreds of dollars to run through mud. I follow my favorite baseball team like a 9-year-old Disney movie character wearing his mitt in front of the TV.
Thing is, I'm not convinced any of this is a bad thing. Yeah, there's a vein of immaturity running through American adult life -- superhero movies dominate culture, a cartoon bully dominates politics, glorified playhouses are somehow the new dream home. But you know what else dominates life in America? A crushing culture of endless work that beats down hourly workers and wage slaves to the point that they can never take a day off.
Adam K Raymond
If coloring distracts you from that, then color. Just don't pretend it's some New Age pursuit, a simpler way to achieve transcendental bliss. Distracting you from your bullshit adult life does not make coloring meditation, it makes it a hobby. That's what hobbies do, whether they're childlike or mature, like woodworking or sniffing your booze before drinking it. They simultaneously focus and distract. If coloring's your thing, don't be ashamed that it's for kids. Own it.
Anyway, that's my plan as I sit here wearing adult zip-up pajamas, snacking on an adult Lunchable and thumbing through Bun B's Rap Coloring and Activity Book. If I'm going to unwind with a kid's activity re-made for adults, I might as well go all out.
The images in Bun B's book are simple portraits, not unlike the full pages of Dora or that shifty fox Swiper that my daughter likes to color. I'm done with colored pencils -- they take too long -- so I reach into a bucket of crayons and pull out a pale red for the pick in Questlove's afro. The soft, new sweatshirt feeling inside my Forever Lazy Adult Onesie is comforting as I make long strokes, mostly staying within the lines. I reach for a piece of wine-infused salami from my Hillshire Small Plate and in just a few minutes, the picture's done. I wouldn't put it on Instagram, but it'll fit right in on my fridge. Just got to figure out which of my daughter's pieces to take down. Or I could just do as she would and knock everything onto the floor, clearing space for my art. Yes, that's the answer. That and maybe a nap.
Sign up here for our daily Thrillist email, and get your fix of the best in food/drink/fun.
Adam K. Raymond is a writer in Louisville, KY. He writes about sports, pop culture, technology, and politics for places like
New York
magazine,
Esquire
, and
Maxim
. Follow him: @adamkraymond.