The Habits of People Who Beat Their Hatred of Exercise and Got in Shape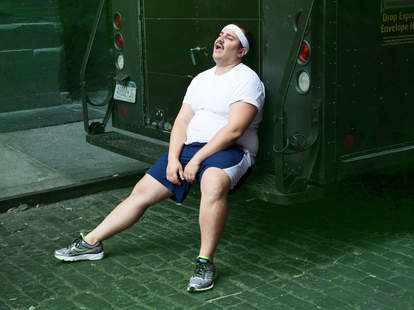 Nina Gonazles/Cole Saladino/Thrillist
So you hate exercise. Big deal. Hating exercise doesn't make you a special snowflake.
It makes you human. Join the club.
Believe it or not, very few people are naturally inclined toward the sweaty, lung-burning, muscle-straining experience of regular exercise. At least, not at first. Like black coffee and red wine, exercise is an acquired taste. One that comes with practice, and that, over time, becomes an enjoyable experience. Just ask these badasses (or dare I say, actual special snowflakes) who made the decision to beat their hatred of exercise and get in shape. Spoiler alert: They did!
Don't try to jog before you can walk
In early 2015, right around the new year, Spencer Smith, like so many others, was contemplating a gym membership, albeit not very excitedly, "I realized I was about to be 30 years old. That hit the hardest. I thought, 'I will be turning 30, I'm 80 pounds overweight, and I take four prescriptions every day.'"
That day (and true story, I'm not making this up!), Smith received a Thrillist email featuring an article from yours truly. He said, "It spoke to me that day... I'm miserable in my skin and I haven't achieved any of my goals."
So he decided to make a change. And it didn't involve a gym membership.
Rather than overcommit and under-deliver, Smith promised himself he'd ease into things. "I started by getting OUT of bed when my alarm sounded. Immediately. I'm a lover of music, so I turned the music on and started moving as soon as I got out of bed in the morning."
The progression from there was slow and steady. He started walking after work, gradually increasing his pace every week. He'd do as many pushups as he could before getting in the shower, and he started adding in Tae Bo and bodyweight exercises at home. Eventually, he turned to cycling, "I bought my first road bike and fell in love. I rode every morning and every evening from that point forward. I saw improvements every week in my strength, speed, and cadence. I never expected to enjoy cycling so much. It was something I looked forward to every day."
Today, Smith is 75lbs lighter and he's ditched all four of his prescriptions. While he admits it's hard to always feel excited about every workout, his motivation comes from the results he's seen and the habits he's formed.
When it comes to advice for others, Smith keeps it real, "Don't kill yourself on your first workout, or your first week of workouts, or your first month of workouts. Ease into it and develop habits. Make your workouts worth it, but don't kill yourself. Consistency and focus will get you where you need to be."
Find ways to hold yourself accountable
Brent Winterton grew up as a heavy kid, graduating high school at about 5'10" and 260lbs. He'd always hated exercise.
Then, life gave him a wake up call: His father had a heart attack.
At first, he tried all kinds of workouts: hitting the gym solo, enlisting a personal trainer, working out with friends, going running, trying P90X. If you name it, he probably tried it. For Winterton, it wasn't about finding a workout he could tolerate, it was all about the mental battle, especially where motivation was concerned. "Motivation is a fickle thing -- it's not always around when you want to train. Just showing up is the whole battle. The key here for me was not to wait for motivation, but to do it because I said I would."
And that's where accountability comes in. Winterton points to coaches, personal trainers, and monetary fitness challenges as the tools he used to stay accountable. "I love having coaches in my corner. Accountability is a lot more reliable than motivation. And habits are the biggest thing. Put your ass on the line to ensure your habits stand the test of time. I joined challenges that had financial implications if I didn't show up. Imagine how you'd feel about skipping the gym if it was going to cost you $100 a session."
Start with a plan to avoid feeling like an idiot
All through his 20s, Stephen Kurily thought fitness was pointless, "The thought of going to the gym and enjoying it was something I could never begin to wrap my head around." But at 29, on New Year's Eve, Kurily ran into some friends from high school who had gotten into lifting weights. "Seeing their transformation from scrawny guys to strong and masculine-looking men really interested me. To see someone you know go through a transformation like that is really empowering."
Given that Kurily had so adamantly eschewed exercise for almost 30 years of his life, he wasn't really sure where to start, "I had literally never attempted to be in shape. I had no idea where to begin." So he found a workout plan because, "There's nothing more intimidating than walking into a gym for the first time and having NO CLUE what you're doing. It's overwhelming, and so easy to just flop around, do a few curls, hit the treadmill for a few minutes, then leave feeling like a fool."
Having a plan to follow gave him confidence for two reasons. First, you have a goal every time you hit the gym, "You know you need to do X, Y, and Z. Once you're done with those, you can leave." And second, following a plan makes it easy to track progress, "It's incredibly satisfying and motivating to feel like you're achieving something every time you work out," says Kurily. But part of that is accurately tracking your progress. He suggests writing down what you do in a workout journal, either on paper or in your phone, "Being able to look back and see what you lifted in the past and where you are now is extremely motivating."
Don't fall into the trap of thinking it's too late to start
At 46, Jennifer Devlin knew that her 50th birthday was on the horizon, and she recognized that (in her terms), her middle-aged spread wasn't getting any smaller. She knew it was time to make big lifestyle changes, and in a fit of productivity, she informed her family that the formal dining room was being transformed into her yoga studio, "I bought several yoga DVDs and a Pilates reformer (that was a QVC late night splurge), then I promptly did nothing for two years."
Bet some of you have been there, huh?
At 48, ever-closer to 50, Devlin was about to sell the gently used equipment, but decided to give it one last go. And give it a go, she did. In fact, she radically changed her life by changing the type of program she planned to follow. "I realized in order for me to incorporate exercise regularly, it had to be fun. Out with the yoga DVDs and in with the hula hoop, Kangoo Jumps, and Zumba classes." As a result, she successfully committed to an everyday exercise habit. "I do something different every single day, and if it's not fun, I don't do it."
In just three months, Devlin lost almost 50lbs, all by keeping her routine fresh and changing her mindset, "I now view exercise as a gift I give to myself instead of punishment."
To fight boredom, shake up your routine frequently
At the age of 50, Gerald Blight's years of inactivity came back to haunt him, "I was found to have a 95% blockage in my heart, and after two cardiac stents, I was told that my coronary artery disease was advanced and that I had to start exercising or I would die." How's that for a wake-up call?
He started with cardiac rehab that consisted of treadmill walking and using an arm ergometer, but he wasn't happy about it: "I felt I didn't belong among the other patients, as I was the youngest by far. My bad attitude showed, and the only way I had to express my anger was by channeling it into the three-month prescription." To his surprise, though, at the end of his 13-week program, he was hooked.
The main challenge he found, though, was boredom. He transitioned from treadmill walking to strength training, then a twisted ankle took him to the swimming pool. All his effort paid off. "I lost about 20 pounds, and several inches off my stomach. After about nine months, I was a different person."
At 58, he took up shot put and javelin throwing, ultimately competing in the National Senior Games in 2013 and 2015. And even now, at 63, he does everything he can to keep workouts interesting, "Typically I do three treadmill workouts per week. Usually do two weight training workouts, and I throw each morning and walk two to three miles each day. I took up kettlebells a few months ago and I'm making great progress there as well. People don't realize that muscles are the batteries of the body and give you extra energy. My wife and I are both 63 years old and have more energy than people half our age. It's just a shame I had to almost lose my life to learn the lesson."
Find an activity that you actually think is fun
Cori Magnotta is another perfect picture of the anti-exerciser, "I absolutely hated exercise -- I loathed it! In my attempts to change, I'd join a gym every January and go exactly two times -- once to sign up, and again to cancel my membership after wasting months of membership fees."
This tune played itself on repeat for years, but it all changed when Magnotta found a studio with unique classes that didn't require that she wear sneakers. "I hated working out so much that I refused to put on sneakers."
First, she discovered Kangoo Jumps, a rebound-based aerobic class where participants put on special shoes and bounce around to high-energy music. She then tried a hula hoop fitness class that incorporated Pilates, barre, and yoga with cardio using a weighted hula hoop. Unlike all her previous experiences, she was finally able to stick with a regular routine... and she actually enjoyed it, too.
After two years of consistent hard work, Magnotta's lost a total of 85lbs, and she's turned her hard work into a rewarding career as a Certified FXP Hoop Fitness Instructor. She says, "My advice to others who hate working out is to keep trying different classes and forms of exercise. Don't give up, there is something out there that you will love and eventually look forward to doing."
Sign up here for our daily Thrillist email, and get your fix of the best in food/drink/fun.
Laura Williams is an exercise physiologist and fitness writer who hates the treadmill and loves the jump rope -- something she didn't realize until her 30s. Connect on Twitter @girlsgonesporty.