A Guide to Working Out When It's Terrible and Cold Outside
Lili Sams/Thrillist
Lili Sams/Thrillist
I'm fairly confident that winter, ironically, is God's way of letting us know that Hell is real and terrible. Short days, frigid nights, and unpredictable bouts of "wintry mix" (which is like getting the worst flavor of slushy dumped on your head), not to mention icy roads and full-blown blizzards. Winter is pretty much the worst.
And yet, it coincides with New Year's resolutions, which I'm fairly confident is God's way of saying, "Joke's on you!" Because really, who wants to stick to an exercise program when it's terrible out?
While there's no way to completely escape the reality of cold-weather exercise (unless, of course, you're able to move to the tropics), there are ways to make it manageable.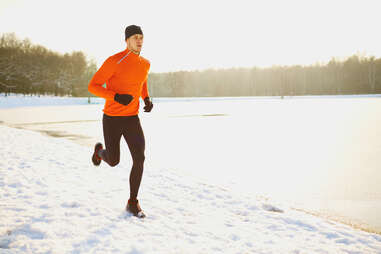 Invest in the right gear
In 2005, I moved to Oregon from Texas, and I fully intended to keep my running routine going with the clothes I already owned. My plan was both ill-advised and short-lived. Cotton shirts and cotton sweatpants are what misery is made of in the Pacific Northwest.
It's absolutely vital that you purchase clothing designed to stand up to the weather you're subjected to, and that you head out the door dressed in layers.
Layers are key to comfortable outdoor exercise, because as you get moving, and as your body generates heat, you may need to remove a layer or an article of clothing to prevent yourself from overheating.
Depending on where you live, you may need some or all of the following:
Base layer: Opt for a merino wool variety that wicks sweat and keeps you warm (I'm a fan of Ridge and Kari Traa)
Mid-layer: Mid-layers are designed to be lightweight, adding extra warmth without a lot of bulk -- think a long-sleeve shirt or lightweight full-zip top.
Insulating layer: In particularly cold-weather conditions, the insulating layer is added for warmth. Hoodies, fleece shells, and down jackets are all examples of insulating layers. Some outdoor companies offer outerwear with removable insulating layers inside.
Outerwear: This layer is what actually protects you from the elements, blocking the wind, rain and snow from assaulting your precious skin. In most cases you want a breathable shell that offers waterproof or durable water repellant (DWR) fabric. Most sportswear companies offer something along these lines, but I like to purchase apparel from companies based in the area I live. For instance, when I lived in Oregon, I bought mostly from Brooks Running and Outdoor Research because I knew the people designing the apparel were intimately familiar with the conditions I was exercising in.
Hat: One way to ruin an otherwise fine workout is to leave your head and ears exposed to the cold. Pick up a merino wool beanie you can pull down over your ears.
Gloves: Likewise, cold fingers are terrible. Sure, you can shove them in your pockets, but that screws with your ability to swing your arms or perform other exercises. Grab a pair of high-quality gloves, and choose water-resistant ones if the weather if frequently wet or snowy.
Gaiter or scarf: Gaiters and scarves do double-duty -- not only do they keep your neck warm, but you can pull them over your nose and mouth to help warm up the air you breath before it hits your lungs.
Water-resistant shoes and socks: Unless you enjoy the feeling of soggy, frozen feet, you're going to need to invest in water-resistant footwear.

Sara Zwicker, the blogger behind Life Between the Miles, adds that you should always, "Dress for 10 to 15 degrees warmer than the actual temperature." Even if you feel a little chilly initially, as your body warms up, the heat you create stays close to your body, keeping you comfortable.
Warm up inside
Heading outside into the frigid cold without first warming up is a bit like jumping into cold water -- your muscles contract in response, which just means it'll take even longer to adjust to the offense. Counteract the cold assault by warming up before you head outside. Colleen Dahlem of the blog Live Free and Run says, "I usually do some jumping jacks or burpees to get my heart rate up, then I'm not as cold when I first step out."

Plan your after-workout treat
The best thing about exercising outside is heading back inside to a nice, warm house. Decide in advance how to make the experience better; ask your roommate to set up a fire, put your electric blanket and a good book by the couch, or stock up on hot chocolate. Amanda Nyx of Adventures with FitNyx can't emphasize this enough: "Always know how much hot chocolate you have left before you go outside! Otherwise, you're basically inviting disaster. Trust me on this one."

Make it memorable
There was a time I was on such a weird schedule that I had no choice but to exercise at 1am. This often meant leashing up my dog and heading outside in the cold, sloshy wet and ice of Oregon winters in the darkest hours of the night.
On one hand, it was everything I hate in the world. On the other, it was magical. No one was around -- everything felt quiet and peaceful with nothing but my breath and the rhythmic sound of my feet on the pavement. And when it snowed? Everything glistened like diamonds in my own, private world.
While I wouldn't necessarily suggest you take up midnight running, and you should always be safe whenever you're out and about (especially if you're alone), try to find something uniquely enjoyable in each experience of outdoor exercise.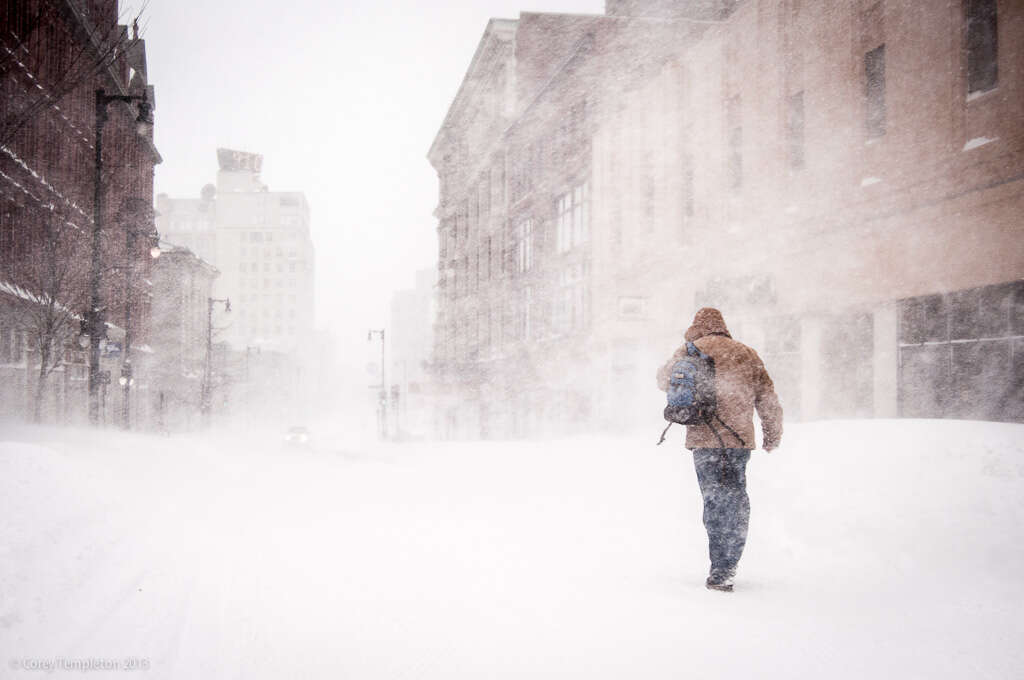 Be smart about timing
It's almost always possible to exercise outside, but it's not always advisable. If you don't have workout gear appropriate to the weather, if the roads are particularly icy, or if severe storms are heading your way, don't be a tough guy. Tough guys often end up injured or dead.

Exercise inside
It's kind of a no-brainer. If the weather sucks -- particularly if working out outside means walking into a chaotic maelstrom of winter storms -- go ahead and take your workout indoors. Even if you don't have a gym membership, you can find free workout videos on YouTube, or you can subscribe to a streaming service like Grokker or YogaGlo.
Sign up here for our daily Thrillist email, and get your fix of the best in food/drink/fun.

Laura Williams is an exercise physiologist and fitness writer who moved back to Texas, in part, to avoid terrible winter workouts. The struggle is real. Commiserate with her on Twitter @girlsgonesporty.