Paid Content For
Vitamin Water
8 Workouts That Are So Last Year, And What To Do Instead
Paid Content For
Vitamin Water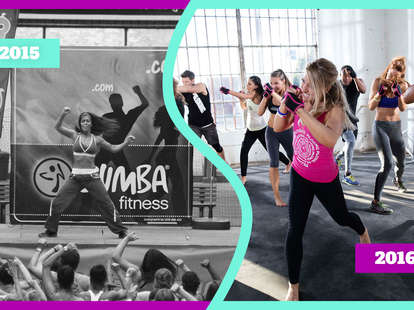 (L) <a href="http://www.flickr.com/photos/rickwell/6810245160" rel="nofollow" target="_blank">Michel Dangmann/Flickr</a>; (R) Courtesy of Piloxing
Trends come and go. We've witnessed this with Juicy Couture sweat suits, using "YOLO" as a valid explanation for anything, and Twitter. That's why we want you to stop doing workouts that are so 2015, and focus on what's hot right now. Here are eight workout trends that are so last year, and what you should be doing instead.

If your go-to workout is Zumba … try Piloxing instead:
Zumba is the class you and your mom both love because there's no real workout component, and as long as you stand in the back row, nobody can see how horrible your dances move really are. But it's time to up the ante, and that's where Piloxing comes in. Piloxing combines dance with boxing and standing Pilates principles for a workout that feels like Zumba on 15 cups of coffee. Weighted gloves make every punch a strength training move in disguise, so you'll wake up feeling like you actually worked out (rather than just danced hard at the club).
If your go-to workout is SoulCycle … try Rise Nation instead:
You may be addicted to the cliquey classes at SoulCycle, but their dance-party-on-a-bike fitness craze has been around so long, even Michelle Obama has tried it. It's time climb aboard a new trend -- like climbing gym Rise Nation. Get the same swanky vibes and perks (like sweating next to celebrities) plus a full-body workout, shiney new equipment, and the chance to burn approximately 23.3-calories per minute. The studio is only available on the West Coast right now, but we bet it's only a matter of time before it begins a SoulCycle-like attempt for world domination.
If your go-to weekend warrior activity is a mud run … try a beer race instead:
Getting the gang together to show off your grit and have a blast is the definition of bro-ing out. But how many times do you really need to don vikings horns, get absolutely filthy and jump over a fire pit? Update your social calendar by challenging your buddies to a beer race. You'll get the same combination of competitiveness and camaraderie you would at a mud run, minus having to stand under a freezing hose past the finish line so you don't muddy up your car. Our recommendation? The BeerFit Running Series. The national event series has two options: a beer mile and classic 5k race. The best part? Both options include an open bar past the finish line.
If your go-to stress-reliever is hot yoga … try sculpt yoga instead:
You don't need the soul-crushing intensity of a 100-degree room or the swamp ass of a marathoner in the Sahara to keep your yoga practice effective. Instead, try sculpt yoga: a divine blend of traditional strength moves and yoga poses (think bicep curls while holding a chair pose) that will mix up your workout while adding some muscle tone to your already-flexible figure. While sculpt yoga classes vary studio-to-studio, you can expect to build lean muscle mass while lighting a fire under your metabolism. Try it out at CorePower Yoga (locations nationwide) or Pure Yoga in New York City.

If your go-to incentive to work out is buying a gym membership … try ClassPass instead:
Overpriced annual gym memberships don't account for the fact that you'll inevitably get lazy during March Madness and not go for a whole month. They ask for a whole year of commitment, when you don't even know what your Tinder profile will say tomorrow. Free yourself from the old ball and chain by switching to a membership-based fitness program like ClassPass. The monthly membership service allows you to try multiple gyms and fitness classes throughout your city -- and as an added incentive to make it to class, you'll get slapped with a $15 fee if you cancel within 12 hours.
If your go-to workout is cycling class … try a competition-based program instead:
Spinning and indoor cycling is a great way to get a great ass, but to be frankly honest: It's boring. Give your bike shorts a hike up at a competition-based cycling studio like FlyWheel or SWERVE Fitness. At Flywheel, every class is a race to see who can be the best. Screens in the studio display rider's scores in real time, according to how much power they're putting out. At SWERVE, you'll join forces with a team of riders to go head-to-head with two other teams for the duration of the class. You might even make a new friend! ... Or enemy.

If your go-to workout is a group fitness class … try a free outdoor workout group instead:
Accountability is the one thing that can get you to work out when it's pouring outside or you're hungover (because nobody likes being called a wuss). That's why we suggest ditching your group fitness classmates, who could care less if you show up or not, for a free grassroots fitness initiative like November Project. These 100 percent no-cost outdoor workouts take place at various landmarks throughout your city, and members' collective, "just show up" mentality will give you serious FOMO for missing a 6:30am sweat session.
If your go-to workout is CrossFit … try interval fitness-based classes:
CrossFitters and their vendetta against carbohydrates are kind of like our parents on Facebook: they rant a lot, but no one really listens, or cares. Stop picking things up and putting them down and try an interval-based workout like FitMix, Les Mills Fitness, or Orangetheory Fitness instead. These workouts infuse a variety of exercises -- think HIIT, treadmill running, strength training and more -- into one class, so you'll stop getting bored, and stop lecturing other people about their eating habits.
Erin Kelly is a writer, runner and triathlete living in New York City who has tried (and failed at) every fitness craze on this list. Follow her on Twitter at @erinkellysays.