New York State Will Allow Medical Marijuana for Chronic Pain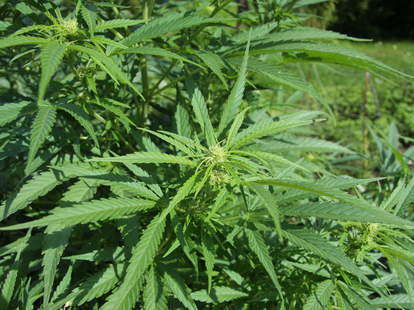 New York is gradually catching up to other states in rethinking its marijuana policies.
In a shockingly reasonable development, the New York State Department of Health announced Thursday that chronic pain will soon join its short list of qualifying conditions for medical marijuana. This means far more New Yorkers will have access to this increasingly accepted form of treatment.
"After conducting a thorough review of the scientific literature, it became clear that there may be certain benefits in the use of medical marijuana by patients suffering from chronic pain," Health Commissioner Dr. Howard A. Zucker said in a statement from the NYSDOH. "Medical marijuana is already helping thousands of patients across New York State, and adding chronic pain as a qualifying condition will help more patients and further strengthen the program."
The current list of 10 qualifying conditions includes the likes of cancer, HIV/AIDS, and Huntington's disease. While medical marijuana has been legal in the state since 2014 with the passing of the Compassionate Care Act, New York has been among the strictest jurisdictions in terms of granting access. In a state of almost 20 million people, only about 10,000 are currently certified by their doctors to use marijuana for treatment -- which, incidentally, is roughly the same number of people presently standing on line at Shake Shack.
While the state's decision is good news for proponents of greater medical access to marijuana, advocates for decriminalizing its recreational use have seen only modest progress on the local level. In 2014, New York City Mayor Bill de Blasio announced that police would begin issuing a summons for those in possession of less than 25g of marijuana instead of making an arrest, with a maximum fine of $100 for the first offense.
On the national front, however, reform has come even slower. Just this past August, the US Drug Enforcement Agency reaffirmed marijuana's classification as a Schedule I drug -- effectively rejecting the idea of a proven medical benefit of using the stuff -- though the agency did sign off on new research into the subject. Nonetheless, an increasing number of US states continue to support marijuana reform efforts. Last month, voters in Arkansas, Florida, North Dakota, and Montana approved new medical marijuana measures, while voters in California, Maine, Massachusetts, and Nevada endorsed recreational legalization as well.
Despite New York State's new policy, you should probably still wait to schedule an appointment with your doctor. The forthcoming regulatory amendment "will include language specifying the chronic pain conditions that would qualify for medical marijuana," so the jury is still out on whether walking to work in high heels is a qualifying condition.
Sign up here for our daily NYC email and be the first to get all the food/drink/fun New York has to offer.
James Chrisman is a copy editor at Thrillist who is suddenly feeling under the weather. Wish him well @james_chrisman2.