Hollywood Forever Tomb Tour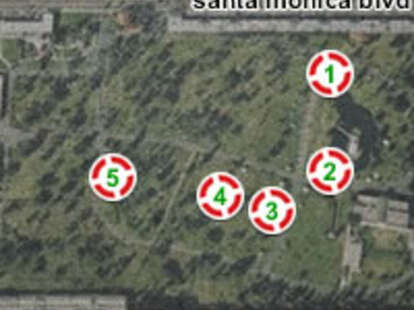 This Saturday, the Cinespia Series returns to the Hollywood Forever Cemetery with a screening of The Player. Also back: that hour of crushing boredom between staking your blanket claim and showtime. Take advantage of the gravey surrounds and gawk at 100 years of nutty interment with this Tomb Tour
1. Cecil B. DeMilleProducer, The Ten CommandmentsDeMille used to drive his Cadillac to his tombstone, sit on the roof, and brag about his gravesite to passersby. Now he sits underground worrying that Charlton Heston's coming by to shoot him
2. Johnny RamoneLegendary Punk GuitaristMemorialized with a life-sized, mid-rock-out statue, Johnny's celebrated once a year with a riotous service, and a million times a year by crappy bar bands butchering "I Wanna Be Sedated"
3. Carl Morgan BigsbyPioneering Graphic ArtistHis bizarre marker is a 7' replica of a Spartan rocket, a 1970s anti-ballistic missile with a range of 800 miles (or 800 miles more than Carl Morgan Bigsby)
4. Walter Miller ClarkAbsentee CorpsePeer into this body-less tomb for a surprisingly colorful stained-glass window and an epitaph reading: "Lost at Sea. SS Titanic. 1884-1912" -- 81 merciful years before his girlfriend would have made him sit through the movie
5. Mel BlancThe voice of Bugs BunnyThe cartoon maven's epitaph reads, "That's all, Folks" -- crushing for Hindu-come-lately's whose belief in reincarnation was instigated by Wile E. Coyote's unfailing recoveries from anvil-related pratfalls
Screenings run Saturdays all summer, but the cemetery's also open weekdays -- a boon during those eight hours of crushing boredom you call "work"