SBE's latest Hamptons-themed nightclub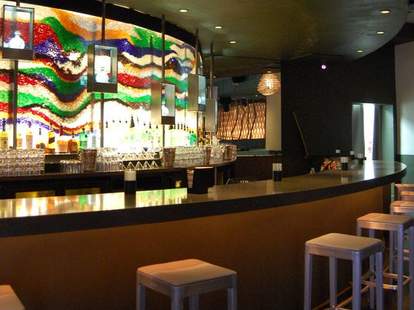 When people in LA think of the Hamptons, it's usually because they're visiting LA from NY, and have no other points of reference. Giving everyone else in LA a reason to think about the Hamptons, the Colony.
Finally open to the public tomorrow after weeks of private-party previews, The Colony's a Hamptons-themed nightclub in the former White Lotus/Halo space from the dudes at SBE, who're also responsible for the nightlife at MI-6, Industry, and Hyde, as well as the food at XIV and the Bazaar -- a perpetual source of consternation for OMC. Thematically, the place is totally dedicated to its faux-Hamptonism, with an actually-sandy entranceway leading up to a faux-lifeguard stand doorway; once inside, there're three distinct areas, each w/ its own bar: a patio w/ white couches and wide, deep hammocks over shallow pools, a beach-housey small room w/ a slatted-wood ceiling and a cushioned, dangling boat to lounge in, and the main dance floor, which features an orange-ish mural of a chick laying under an umbrella beside a massive semicircular bar w/ diamond-mirrored decorations, a giant disco ball, and enormous leading-to-the-patio doors w/ shutters that're "plantation-style" -- so they call the Civil War a tie? As far as booziness, each bar's fully stocked, with thematically odd specialty drinks that include booze-infused popsicles, "Sashimi" (essentially jello shots sliced thin), and "Sushi", which is a multi-layered version of the same, wrapped-w/ nori made of a fruit roll-up, which better be Rainbow, or at least Blastin Berry Hot Colors.
In addition, the club's got its own store, with shelves stocked w/ necessities like cigarettes, sandals, and scarves, which are what people in LA think everyone on the East coast wears year round, which is preposterous, unless they mean ascots.