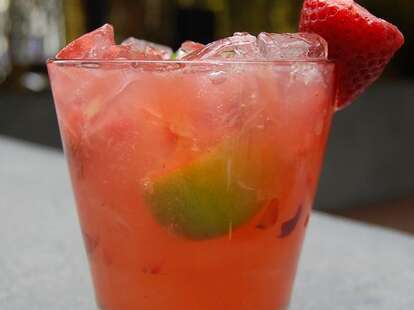 It's an age-old adage that without every single piece, the whole doesn't work -- as evidenced by the impossibility of winning Mouse Trap without the marble that goes through the bathtub, then on to the seesaw, which launches the diver, shaking the cage free and trapping that mouse roughly 4% of the time. Bringing an important piece to the W Hollywood puzzle, the Station
One of the key elements opening Thursday at the monstrous W complex, the Station is an outdoor drink lounge festooned with plush, Indonesian couches/chairs, two giant fire pits, a pair of granite-topped bars, and a 600-sq-foot retractable movie screen, just in case you find yourself feeling claustrophobic at Cinerama Dome. To keep you hydrated, they've got optional bottle service, as well as a la carte drinks via a menu split into four parts, with "Olds Cool" options like a Maker's/bitters/Vermouth/muddled orange/infused cherry "New Fashioned;" "Stirred" choices like sweet tea vodka and fresh lemonade "John Daly;" "Shaken" drinks like the Square One cucumber vodka/apple juice/agave nectar/lemon "One a Day"; and five options labeled "Smashed," which could also safely house the "John Daly". To soak it all up, they've got gourmet small plates and sandwiches like shrimp & chorizo pintxos w/ charred tomato gazpacho, a sliced steak sandwich w/ onions, Gruyere, and fries, and albondigas, which's a classic Mexican preparation of meatballs, starring Guillermo Murray.
Soon, they plan on having movie nights, DJ's, and live bands; also this week, the W is rolling out the French restaurant Delphine and lobby bar The Living Room -- the final pieces in the puzzle that'll ensure you also don't work.