Clocks made from vintage auto hubcaps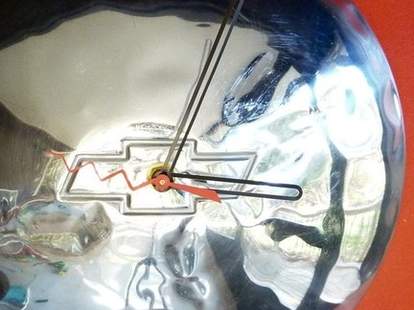 Even though you've always got the time on your cellphone, actual clocks have plenty going for them, from lending some class to your pad to being easy to clean, just by beating up someone familiar with old-timey slang. So hurry and find someone's ass to kick, then pick up an awesome time teller from Metal Art Dude.
Dude's the nickname of a Carrollton resident named Joel who began morphing scrap metal into clocks and other unique wall artworks after he tired of working in corporate America designing homes and learned to weld, which he says "spun things around for me; no wait that was the vertigo", so either this guy's a regular comedian, or someone should probably get him away from that welder. Hubcap clocks're sourced mostly from vintage American-made whips, starting as far back as the 14 1/2"-round sunshine-dial-esque 1967 Plymouth Fury; a shiny, simple, coolly beaten-up 1968 Chevy truck center cap; and a protruding '68 Ford LTD job that was "found in the hinterlands of Atlanta", which's a fancy way of saying he's down with OTP. Yeah, you know him. Minimalist 'cap-clocks include a smooth '81 Chevette with some cool concentric rings, while for foreign stuff there's a late '80s Volvo cap spraypainted with an array of colors, pasted with ransom note-style numbers, and stenciled with multi-directional white stripes, which is weird, as all their songs normally sound exactly the same.
Dude also makes decorative sculptures for your crib or yard, including a 10lb cow's head made from a junked car's oil pan and turtles crafted from Weider barbells, which should get you in shape to clean anyone's clock...because some of those old rusty gears can take a lot of strength to polish!