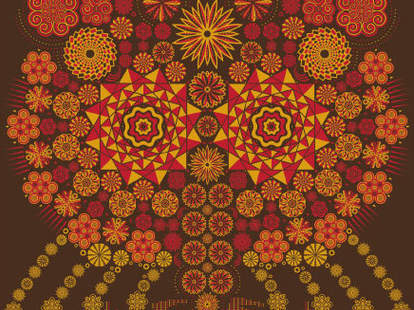 Just because you can't be in your favorite band doesn't mean you can't touch their world -- Tom Petty echoed the Byrds so perfectly that Roger McGuinn happily covered "American Girl", while Coldplay echoed Travis so perfectly that Travis happily disappeared for fear they were as crappy as Coldplay. Touching his faves with his pen, Todd Slater.
Round Rock screenprinter Slater prolifically inks posters that pull art movements like pointillism and impressionism into psychedelic patterns and dramatic imagery, working for a staggering array of indie and mainstream acts, with over 20 prints done for Ween, a band for which his slavish devotion borders on Melchi-holism, preventing him from ever becoming a Freeman. The latest Gene/Dean-ness includes a two-headed man at an altar of candles (for an upcoming Oakland show), while previous stuff runs from a Cubist faux-Picasso showing a mad hatter pouring a cup of tea, to a trippy star-patterned number based on a painting of a schizophrenic cat -- which, assuming the disease manifests in the typical ignore-pester-ignore pattern, could just be called a "cat". Straying from the faux-brothers are designs like a fictitious skyline done for Interpol, an Of Montreal rodeo number featuring Prince riding a praying mantis, and a Guided By Voices print whose horn-playing pink elephants have X's over their eyes, a reference to Dumbo, and not to the elephant in the room -- that Robert Pollard is totally wasted.

Although rock is king, Slater's also done work like a scratchy orange pointillist take on "Milton" from Office Space (for the Drafthouse), and "Wilt Chamberlain 20,000", a portrait of the legend psychedelically tattooed with the names of American Girls who touched his world, got some play, and then got left out in the cold.