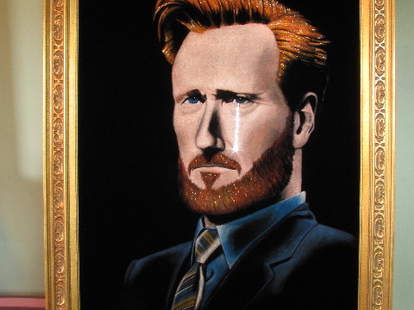 The subject matter of flea-market velvet paintings is notoriously limited -- you can get Jesus, or Elvis, but good luck getting Jesus as Elvis, even though they were both kings, and both asked that you not be cruel. Now giving you the fuzzy art of your wildest dreams: Velvet Juanita
A veteran kitsch-master who's been painting since age 5, Juanita is turning her focus to custom work, rendering just about anything you'd like on the material she loves because "everything looks great on black velvet", a statement that foolishly presupposes the last two decades have been kind to Alannah Myles. Just send her any relevant images via e-mail, plus an idea of how you'd like to see them manipulated, merged, or otherwise messed with, negotiate a price and send her a 50% deposit, and your painting will be done in two weeks, or how long it takes to complete a masterpiece when not lying on your back on a scaffold, blasted on wine as you seek perfection down to the last biblical penii. Already undertaken projects range from a sexy Josephine Baker on brown velvet, to a thankfully not-sexy family portrait depicting a cat perched on the father's head, to an actual wedding shot where Clint Eastwood's been added as best man, a Sendakian Wild Thing as a bridesmaid, and Col. Sanders as the presiding authority figure -- so "until death do us part" obviously became "until we kick the bucket".
While framed velvet takes up the bulk of Juanita's portfolio, she's also done wearable works like velvet jackets featuring all-seeing owls, and couch-enhancers like painted pillows rocking depictions of mushrooms, though given the whole Jesus-as-Elvis thing, maybe your head and 'shrooms ought to get some separation.