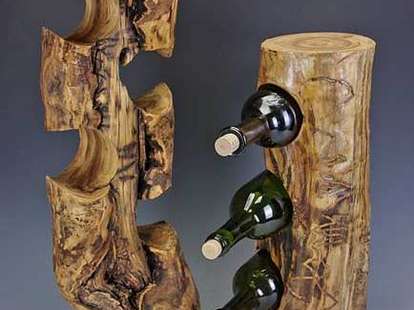 They say it's impossible to improve upon nature, but they also say alcohol makes everything better, so they're probably just boozed up or something. Improving nature by adding alcohol: Aspen Bottle Holders.
Named for the Aspen tree (as opposed to the place where rich people go to be rich around each other), Longmont-based ABH whittles naturalistic bottle trees from actual dead ones found in Coloradan national parks from Steamboat to Drake, where Degrassi's always greener. The wood starts with unique imperfections (from blemishes from elk rubbing their antlers against it, to bite marks from a beaver's gnawing), then is hand-drilled to create bottle/coaster grooves, hand-sanded, and is finally given either a minimalist beeswax shine or a waterproof coating for a high gloss finish, or what experts predict will happen to the magazine industry within five years. The hooch holders are diverse, ranging from vertical stumps topped with divots to house pint/sipping glasses, to horizontal logs cut with grooves to hold bottles/glasses/candles upright, to brand-new rustic takes on the high-volume wall hangers at bars called "speed racks", also a groundbreaking new style of dating where you don't have to pretend to make eye contact.
And should you feel the need to more directly assert your dominance over nature, ABH will craft you a custom rack, letting you get super specific about size and degree of imperfection -- ironically, the exact opposite of what happens when booze is added to you.