Breaking Bad art and more in the O4W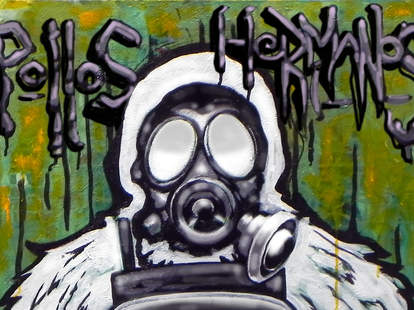 If you appreciate beer, wine, chicken wings, and art based on a TV show that itself is based on crystal meth, you need to get your ass to the grand opening of "organic" gallery loft Dockside this Sat for Los Pollos Hermanos, which translates to four kegs, 80lbs of delicious chicken, and even more delicious meth five DJs, all for just $5. Dozens of show-inspired, buyable works include some from these local artists
Tyler Martin: He painted an image of the harrowingly explosive death of kingpin Gus, played by Giancarlo Esposito, who's now the bad guy on Revolution, which people like, but not "art show" like
Jennifer Desantis: She turns glue, paint, and paper into chaotic mixed-media pieces, including one with cutouts of an ad featuring Jesse and Walter's faces, called "Desolation". Depressing!
Coki Panda: This SCAD student sketched out gas-masked meth-lab demons and Day of the Dead bunny dolls. And is kinda named after a different drug
Soon they'll launch an e-shop selling prints, and for 2013 they've lined up group shows including one with NC artist Anna Jensen, who often puts semi-nude ladies in her art she terms "emotionally complex", which is how Walter White started, although now he's just an ass.