Here we art now, going to the East Side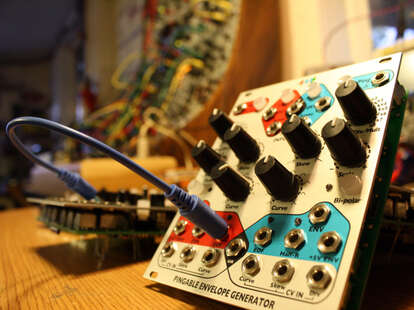 For a studio tour that's more than just some guy showing off his kitchenette, check out E.A.S.T.: a celebration of the starboard side of IH-35's vibrant art scene, with 150+ visual artists, craftsmen, and mad scientists offering behind-the-scenes windows into the creation of everything from handmade furniture to modular synthesizers, which must be really, really, ridiculously good-looking synthesizers.
Hatch Workshop Who'll Dig It: Woodchucks What You'll Find: A cavernous warehouse of furniture crafted from oddities like old desk drawers, plus cheeky public-art fixtures like El Chilito's mustache seesaw, though after funneling carne guisada, it is not recommended that you give mustache rides. Where You Can Learn More: HatchWorkshop.com
Philippe Klinefelter Sculptures/ Sunyong Chung's Ginko Studios Who'll Dig It: Stoners/Potheads What You'll Find: An idyllic, sprawling compound littered with 60-ton slabs of raw granite that get chiseled into public sculptures, as well as a porcelain ceramic studio with free hands-on clay workshops where you'll be able to grow, then sell, then invest in a legitimate business so your kids don't have to make the same mistakes you did make your own pot. Where You Can Learn More: PhilippeKlinefelter.com, GinkoPottery.com
Metalshop Studio Who'll Dig It: Metalheads What You'll Find: Sculptural works ranging from nudes to dragons attacking a cityscape, with tutorials on blacksmith forging and basic welding -- so you'll be doin' it, and doin' it, and doin' it weld. Where You Can Learn More: BradyFoster.com
4ms Pedals Who'll Dig It: Original Synthers What You'll Find: A boutique selection of stompbox guitar pedals (Noise Swash, Autonomous Bassline Generator) and towering homemade synths emitting self-generated electronic beats, whose status as voice of their generation was cemented by Kerouac's OnStar the Road. Where You Can Learn More: 4msPedals.com
Amongst the billions of other artists are the Gold County Paper Mill's Hypercastle, Barry George, Bearded Lady, and RAD Furniture, also how an impressed, non-claustrophobic guest might describe your Murphy Bed.