Furniture you'll wish <em>you</em> thought of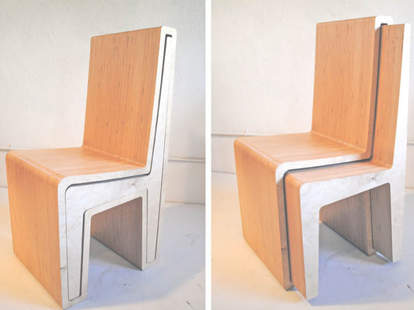 Finally, a think tank run by someone other than former Cowboys linebacker Keith Brooking: Thoughtbarn. The "architectural think tank" behind ATX fixtures like the Lance Armstrong Bikeway and Mohawk, they use a combination of arch ingenuity, hand-craftsmanship, and digitally driven industrial laser cutters to create furniture with a sense of artful utility that far surpasses your collage of unpaid electricity bills. Some of the goods:
Fold Table: Just re-released with newly added storage nooks for living-room specifics (remote, magazines, other remote that must operate something, somewhere), this dual-level coffee table's made of two flat pieces of perforated sheet metal folded then welded together.
Blocks_Modular: Designed specifically for housing vinyl, these Baltic Birch milk crate replacements are milled with male/female circular contours on the top and bottom for easy nesting, a fitting hotel for your Eagles records to check into and never again check out of.
Mr/Mrs Chair: An exercise in creating two chairs from a single design, this laminated plywood pair slide into one another perfectly to form one unit, which is also, apparently, what she said.
In addition to furniture, the Barn's website also shows off their portfolio of buildings and installations, including a million linear feet of string hung to create an inverted topography of Town Lake -- a place to get tanked, and quit thinking.