Your fave quotes brought to life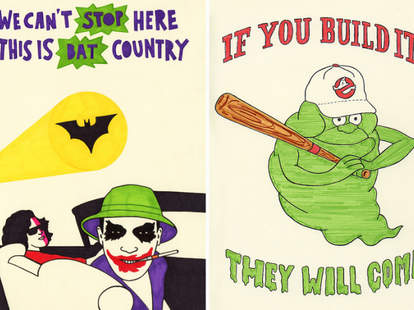 Even if your girlfriend never tires of hearing how she's so money she doesn't even know it, other people probably do, so show them your totally not-played-out favorite movie dialogue instead with a print from Lee Crutchley, a freelance graphic designer whose just-dropped first volume of work is chock-full of illustrated "quote pics" that mash up pop culture, lyrics, phrases, and iconography.
Take your Diners Club card out and get ready to purchase:
Fear & Loathing in Gotham City Surprisingly not just the emotional response when it was announced they lost out to Toronto on an MLS team, this print features a green-hatted/cigarette-smoking Raoul Duke-turned-Joker riding shotgun as the bat signal shines brightly below the phrase, "We Can't Stop Here, This Is Bat Country".
Ghostbusters vs Field of Dreams Kevin Costner is... thankfully not in this print, which's got the quote "If you build it, they will come" framing a drawing of Slimer from Ghostbusters sporting a white-logo'd cap and toting a baseball bat, so...maybe this is also Bat Country?
Swingers vs Star Wars Trent, that loser boy named Sue, and Mike don the heads of Boba Fett, Darth Vader, and a stormtrooper as they stroll down the Walk of Fame, which is a familiar site to anyone who grew up in Anaheim! LA.