Because you can only watch so many Ovide Lamontagne commercials before you realize he's never going to sing "Trouble", take a hard left (or right! No judgement!) out of your polling station and head to Super Precious Art Gallery's Impolitic: Propaganda for Non-Politicians, a calming oasis from the onslaught of hate ads in the form of 25-plus "irreverent" and non-political pop-culture campaign posters on display (and on sale) at Union Square's Bloc 11. To wit:

Chris Piascik and Jon DeFreest glimpse into potential Jack Donaghy and Biggie "The Rap Slayer" Smalls bids for mayor, though contributing mo' money to Biggie's campaign would inevitably result in mo' problems. Also, campaign appearances by Ma$e.
Even if you never saw the infamous Community episode that pitted Troy vs Abed in an epic Greendale blanket fort civil war, you want cool people to think you did, so laugh engagingly at the dueling campaign posters for The Blanketeers vs The Pillowmen.
Proclaiming that "Monster Problems Call For Monster Solutions", Matthew Enderlin's Frankenstein does his best to appeal to swing state independents yearning for strong leadership, something Ovide would give the Granite State, if you believe the ringing endorsement of Second District Congressmen Charles Bass.
Recommended Video
Finally, a Recipe That Lets You Drink Beer and Still Be "Healthy"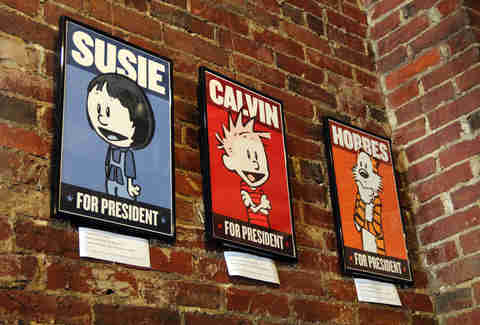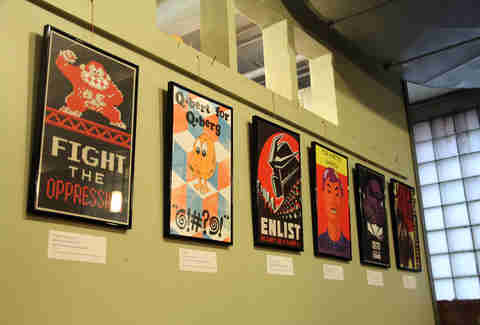 Previous Venue
Next Venue
Venue Description
1. Bloc
11 Bow St, Somerville, MA 02143
From the pair who brought you Davis Square's beloved Diesel Cafe comes Bloc, which is carved into a former bank in Union Square. You can grab a seat in the old vault while sipping pick-me-up beverages, including Intelligentsia coffee and Kilogram tea. If you're looking to cure a hangover, the Turmeric Tonic Limeade is your antidote. Hangover or not, you'll also want to try The 777, a winner of a roast beef sandwich with Gruyère, caramelized onions, and garlic mayo.