Kitchen gear made with the power of concrete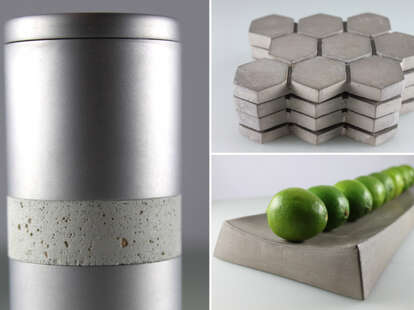 Stop using that old Big Cats Edition Zoobook as a coaster, dinner plate, and serving tray once and for all by outfitting your kitchenette with Culinarium, a sleek line of durable "Epicurean Accoutrement" (from coasters, canisters and bowls, to trays, cutting boards, and spice shakers) that's been hand-crafted by a Eastie born, Plum Island-dwellin' former countertop-maker-turned-cement-artist out of natural materials like aluminum, cork, rubber, and concrete mixed with recycled marble dust.
Choice pieces that'll allow you to now only shop at Williams-Sonoma for water ovens include:
Salt Shaker/Pepper Mill Featuring facets made from contrasting white/gray concrete, this dual-sized shaker set's made from sandblasted aluminum and includes a Delrin interior to ensure smooth grinding action -- although it probably would've been easier if they'd just used "Too Close" by Next.
Natural Tray Originally cast from a hand-sculpted clay mold, this 18in joint boasts a surface similar to ceramic, rocks cork bump-ons for added tabletop protection, and, thanks to the composition of the concrete, "actually gets more durable as the years go by" -- so basically it's the opposite of Kevin Garnett's knees.
Hexagon Coasters Hand-burnished and dressed w/ two coats of carnauba wax, this set of four (4x4in) natural gray cork-bottomed condensation stoppers boast a geometry-friendly pattern designed to "wick condensation away from the bottom of a wet glass", all ensuring that you can now rest your drink on a coaster that isn't those freeloading hyenas.