Upcycled lamps for your leftovers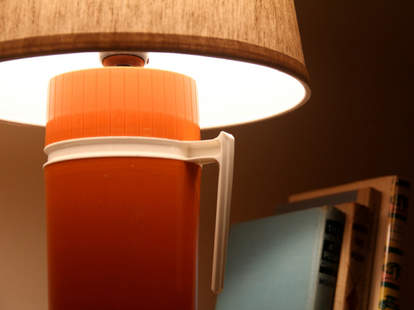 If you've ever looked at your Thermos and thought, "this thing would make a sick lamp", you're definitely on mushrooms, or the Wellesley College-educated genius behind Lampified, an awesome assemblage of nostalgia-evoking illuminators crafted from said hot chocolate containers, as well as other random retro accoutrements.
Choice picks from the line include:
Rustic Wooden Vegetable Box Riding low and flat (but not dirty!) atop rubber feet, this 11in square table number's comprised of a silver-coated bulb attached to one side of a wooden asparagus crate, which you shouldn't eat because it'll make your pee smell. And, also, it's a wooden vegetable crate lamp.
Maxwell House Thermos Made from the drink holder Pops would've lugged to the job site were he not so aggressively devoted to Taster's Choice, this classic, "good to the last drop" logo'd vessel evokes a 1970s wood-paneled basement vibe with its walnut base and burlap drum-shaped shade.
Mustard Yellow Tupperware Made from the very mod kitchenware your mom used to bring to swinger parties with Yaz, this square-shaped piece has been flipped upside-down and lovingly fitted with an elegant chrome shade.
Upcycled Vintage Clock Face Casting a mesmerizing/ potentially eerie square-surrounded-by-circles shadow, this silver-bulbed beaut rocks the face of an "old-school teaching clock", minus the hands -- just like you when you're booming your face off. Oh man, how're you ever going to turn off that lamp!?