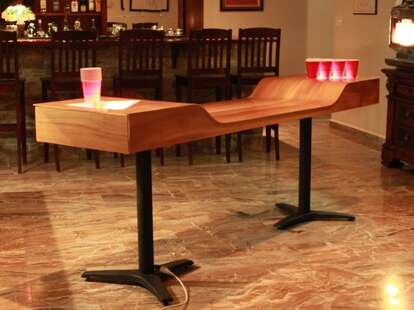 It's great when things blend the low brow with the high, and if you don't agree with that, you're pretty Neils Boring...so go eff your mother! Combining classy style with college shenanigans: Chippewa Five.
From a suburban guy who started honing his woodworking skills at a young age in his family's furniture business, C5 makes custom beer pong tables that also hold their own as a classy, permanent piece of furniture, a pleasant dual-functionality your previous table lost when your roommate wanted it back for his door. When not in use, it appears to be an artfully constructed decorative table whose curved poplar body boasts raised ends that seamlessly slope into a drooped midsection, all minus any visible signs of nails or screws (so it'll fit right in at your place). Once it's gametime, a pair of Plexiglas triangles guide cup placement and provide illuminated flair thanks to hidden LED lights, with all the wiring neatly tucked inside and an on/off switch that's discreetly under-mounted...just like you, because you totally haven't gotten laid since that last sentence!
If beer pong isn't your game, he's also got coffee tables made from reclaimed oak doors, gigantic CTA map posters, and a carved wood take on the original poster from Woodstock, an event that was all about blending highs and lows...and someone effing your mother!