Way-back styles for your futuristic goods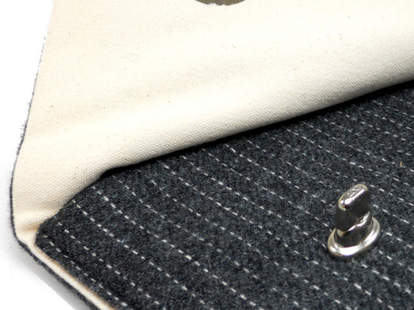 Even the most modern things adopt vintage aesthetics, like the new breed of muscle car -- bought by dudes who look back fondly on days when rides were so cool, compensating for your twittering elf wenis actually got you laid. Offering your newfangled gadgets old-school looks: Stash.
From a Helsinki-raised former British resident now living in Longhorn baseball's summer home (Omaha), Stash makes electronics carriers featuring vintage fabrics and "Scandinavian simplicity" -- a phrase clearly not referring to their black-metal bands' eight billion bass drum beats per second. A smattering of options:
Laptop Messenger: This 13", eight-pocketed number's lined in water resistant canvas, with a fetching tartan plaid exterior that will cause admirers to assume your computer isn't wearing any underwear.
SLR Camera Bag: With special padded dividers to fit a cam, flash, and up to three lenses, this cashmere 'n tweed guy also holds a dozen pockets -- unlike you, who holds a dozen Pockets, and are thus no longer Hot enough to be photographed.
iPhone/ iPod Sleeve: Secured with a riveted leather strap and lined with waterproof canvas, this wool holster provides a helpful hole for your ear-bud plug (for an Air Bud plug, talk to Peter Travers -- that guy likes every movie).
Rounding things out, they've also got sleeves for iPads and Kindles -- though if girls find out you actually read books, you'll never find a car muscular enough to compensate.