Take your pad back to the future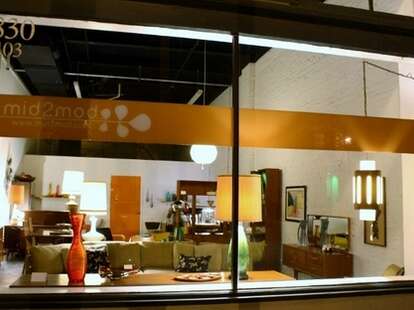 You never really think about what your teachers' secret passions might be, unless your name is Vili Fualaau, and you're hoping her secret passion might Letourn out to be you. For a secret passion that'll look far better in your den, hit Mid2Mod, now open in Exposition Park.
Helmed by a retired teacher and self-professed retrophile, M2M proudly scours everything from estate sales to Craigslist for ceramic, metal, and wood furnishings from names like Risom, Remploy, and Fleetwood, very mid-century modern in that they were always thinking about tomorrow, except when they were sleeping with each other. Some of the sweetness:
Nathan Cabinet: Built by a long-standing furniture maker out of East London, this piece comes complete with a corner table and features teak and glass construction and English-modern design, Modern English design being far too prone to melting.
Jefferson 500 Clock: A zinc-alloy chrome-plated piece from the late '50s, the Jefferson 500's actually modeled after a ship's compass, and not the famed stock-car race won 10yrs in a row by Sherman Hemsley, with that English guy coming in 2nd and complaining about NASCAR being no Formula 1.
Jo Neimeyer Signed Prints: From the German graphic designer and concrete- art- movement stalwart, these simple angular designs are evocative of a highway on the sun, or possibly Houston if you take out the simple/angular part.
M2M's already updating their inventory like madmen, and current stock also includes everything from chairs to bowls to ashtrays -- a fine reminder of the days when Mary Kay was Virginia Slim, and you were the Koolest kid in school.