Homewares from the man who built that keg trike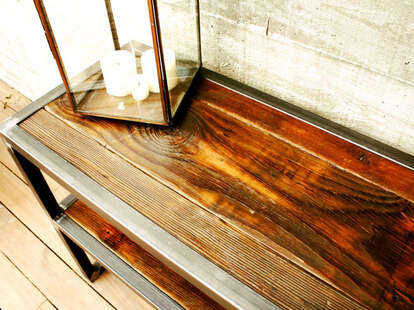 Guys who can build anything are rare in these days of the internet and anonymous message boards, where people are much more adept at tearing everything down. Man, MetaphorzRule26 is gonna think that's a stupid, worthless comparison. Revel in the furniture of a man from a different age, with Yendrabuilt.
The newest project of a FoCo dude who builds everything from custom hot rods to bikes (including a nationally lauded tricycle that hauls kegs for Equinox Brewery), Yendrabuilt sees him handcrafting "industrial, mid-mod" furniture using parts salvaged from Colorado's torn-down barns, broken-down bridges, and busted-up cars, or as it's known in Aurora, "scenery". A sampling of his wares:
Cube Table: This beaut will work as an end table or a bedside stand, and is made from wood once used as a fence, which you should by now no longer be on -- just look at how pretty this thing is!
Entertainment Console: Double-tiered with plenty of room to stash AV equipment, this thing has a built-in flatscreen swivel to let you adjust the angle of your TV, and is topped with wood from the plank of an old bridge near Ft Collins... so cross your fingers when driving out there to pick it up!
Beer Serving Tray: Built with scraps left from other projects and fit with a stainless steel bottom, this tray's sized to fit four pint glasses, or a few tumblers -- the one thing young people these days seem to build no end of.